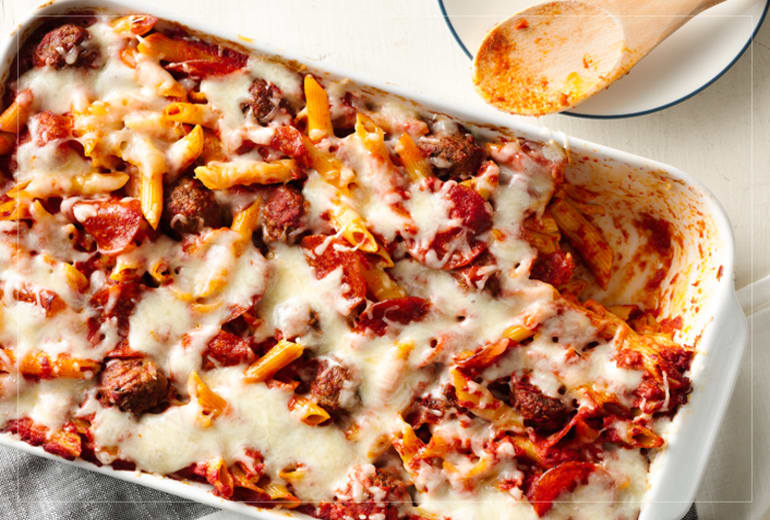 Parmesan Rotini Skillet
Ingredients
1 lb Italian pork sausage links, casings removed
1 can (15 oz each) or 1 carton (14.8 oz) Hunt's® Tomato Sauce
1 can (14.5 oz each) Hunt's® Diced Tomatoes, undrained
2 cups water
1/2 teaspoon dried basil leaves
1/2 teaspoon dried oregano leaves
3 cups rotini pasta, uncooked
1 cup ricotta cheese
1/2 cup grated Parmesan cheese, divided
1/2 teaspoon parsley flakes
Nutrition
1 Serving:Calories 391; Total Fat 17g (Saturated Fat 8g), Cholesterol 51mg; Sodium 913mg; Total Carbohydrate 38g (Dietary Fiber 3g, Sugars 5g); Protein 19g
Daily Value:Vitamin A 11%; Vitamin C 16%; Calcium 16%; Iron 11%
*Percent Daily Values are based on a 2,000 calorie diet.
Preparation
Crumble sausage into large deep skillet; cook 8 to 10 minutes or until evenly browned, stirring frequently. Drain sausage; return to skillet.
Stir in tomato sauce, undrained tomatoes, water, basil and oregano. Bring to a boil. Add pasta; stir. Cover; simmer on medium-low heat 18 to 20 minutes or until pasta is tender, stirring occasionally.
Mix ricotta, 1/4 cup Parmesan and parsley; spoon over pasta mixture, then swirl gently with spoon. Sprinkle remaining Parmesan over top.
Simple for You, Easy for Them.