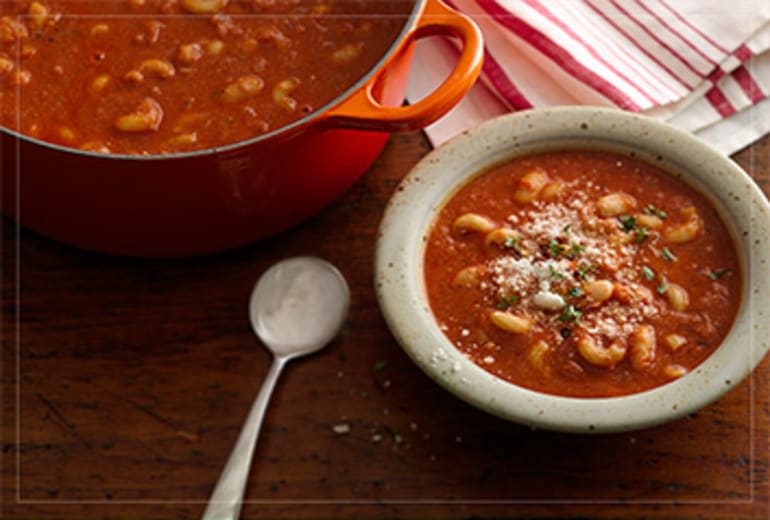 Pasta e Fagioli
Tuscans are affectionately known as 'bean eaters' because of their love of beans, which is an absolute essential staple of the Tuscan table.
Ingredients
1 tablespoon olive oil
1 medium yellow onion, finely chopped
2 cloves garlic, finely chopped
1 teaspoon dried thyme
1/2 teaspoon dried rosemary
4 cups Progresso™ reduced-sodium chicken broth* (from 32-oz carton)
3/4 cup uncooked elbow macaroni
2 cans (15 oz each) Progresso™ cannellini beans, drained, rinsed
1 can (28 oz) Muir Glen™ organic fire roasted crushed tomatoes, undrained
1/2 lb ground Italian sausage, browned and drained
Grated Parmesan cheese, fresh thyme and crushed red pepper flakes, if desired
Nutrition
This classic Italian soup comes together quickly and is hearty enough that even meat eaters will be satisfied! Pureeing a portion of the beans gives the soup creamy texture without added fat or calories.
1 Serving: Calories 360 (Calories from Fat 90), Total Fat 10g; (Saturated Fat 3g; Trans Fat 0g;), Cholesterol 15mg; Sodium 1240mg; Total Carbohydrate 48g; (Dietary Fiber 8g; Sugars 2g;), Protein 17g
% Daily Value*: Vitamin A 15%; Vitamin C 0%; Calcium 8%; Iron 20%
Exchanges: 2 Starch; 0 Fruit; 1 Other Carbohydrate; 0 Skim Milk; 0 Low-Fat Milk; 0 Milk; 0 Vegetable; 1 Very Lean Meat; 0 Lean Meat; 1/2 High-Fat Meat; 1 Fat
*Percent Daily Values are based on a 2,000 calorie diet.
Preparation
In 5-quart stockpot, heat oil over medium-high heat. Add onion; cook 3 to 5 minutes or until tender and translucent. Add garlic; cook 1 minute longer, stirring frequently.
Add thyme, rosemary and 3 1/2 cups of the chicken broth. Heat to boiling. Add macaroni; boil 5 to 7 minutes or until macaroni is almost tender but retains a bit of bite.
In blender, blend remaining 1/2 cup chicken broth, 1 can of the beans and the tomatoes. Blend until smooth. Add mixture to stockpot along with remaining can of beans and the sausage. Reduce heat to medium-low; simmer 10 minutes to blend flavors and heat through.
To serve, ladle soup into bowls. Top each serving with remaining ingredients.
Freezer Directions: Make as directed through step 3, but do not simmer 10 minutes to heat through. Ladle soup mixture into quart-size re-sealable plastic freezer bags; let out any excess air, and seal. Place bags flat in freezer. When ready to eat, thaw overnight in refrigerator. Place in 5-quart stockpot, and reheat over medium heat until heated through.
Recipe Tips
Kidney beans can be substituted for the cannellini beans, if desired.
Simple for You, Easy for Them.