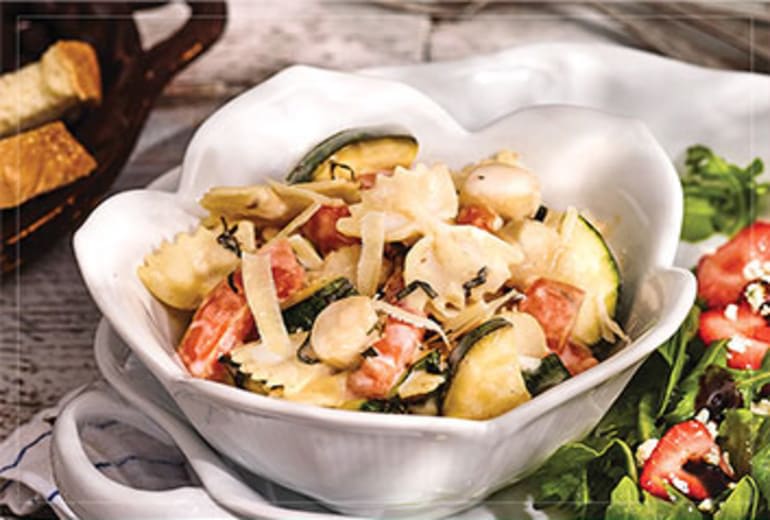 Pasta Rosa with Scallops and Marinated Strawberry Salad
Capesante means "scallops" in Italian, but the word itself seems to have come from the Old French word escalope meaning "shell."
Ingredients
1 medium zucchini, coarsely chopped
1/4 cup fresh basil, coarsely chopped
2 oz Parmesan cheese, shredded/divided
4 plum tomatoes, coarsely chopped
3 tablespoons lemon herb butter (Seafood), divided
1 tablespoon minced garlic
1/2 teaspoon kosher salt
1/2 teaspoon crushed red pepper
8 oz bowtie (or farfalle) pasta
1 cup Bertolli® Creamy Alfredo Sauce*
1 lb Patagonian scallops, thawed
Nutrition
1 Serving: (per 1/6 recipe) Calories 400kcal; Fat 15g; Saturated Fat 8g; Trans Fat 0g; Cholesterol 80mg; Sodium 810mg; Carbohydrate 35g; Fiber 3g; Sugars 3g; Protein 28g
% Daily Value*: Vitamin A 20%; Vitamin C 15%; Calcium 15%; Iron 25%
*Percent Daily Values are based on a 2,000 calorie diet.
Preparation
Bring water to boil for pasta.
Chop zucchini and basil; shred cheese (4 tablespoons).
Cut tomatoes in half lengthwise; remove seeds and chop.
Preheat large sauté pan on medium 2–3 minutes. Place 2 tablespoons butter, garlic, salt, and red pepper in pan; cook and stir 1–2 minutes or until garlic is lightly browned.
Cook and drain pasta following package instructions.
Stir into garlic: remaining 1 tablespoon butter and zucchini; cook and stir 3–4 minutes or until zucchini begins to soften.
Stir in Alfredo sauce, scallops, tomatoes, basil, and 2 tablespoons cheese; cook 2–3 minutes, stirring gently, or until scallops are opaque and firm. Toss pasta with scallop mixture and top with remaining 2 tablespoons cheese. Serve.
Simple for You, Easy for Them.