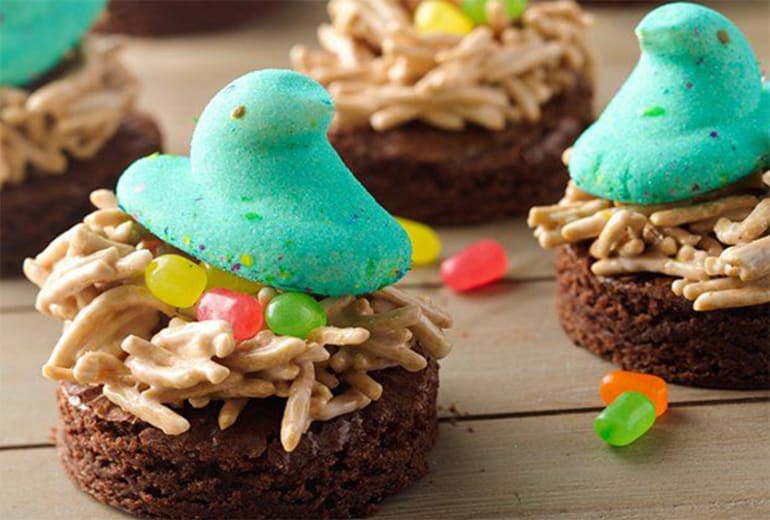 Peeps® Brownie Nests
Brownies make the perfect base to these spring nests for adorable PEEPS® chicks
Ingredients
1 box Betty Crocker™ fudge brownie mix
Water, vegetable oil and egg called for on brownie mix box
1/4 cup butter
2 cups miniature marshmallows
4 cups chow mein noodles
1/2 cup Mike and Ike™ juniors candy (from 3.5-oz package) or your favorite miniature jelly beans
10 PEEPS® brand party cake flavored marshmallow chicks
Nutrition
Serving Size: 1 Serving Calories580 Calories from Fat230 Total Fat25g Saturated Fat6g Trans Fat0g Cholesterol50mg Sodium380mg Total Carbohydrate84g Dietary Fiber1g Sugars50g Protein4g
% Daily Value*: Vitamin A4% Vitamin C0% Calcium0% Iron15%
Exchanges: 1 1/2 Starch; 0 Fruit; 4 Other Carbohydrate; 0 Skim Milk; 0 Low-Fat Milk; 0 Milk; 0 Vegetable; 0 Very Lean Meat; 0 Lean Meat; 0 High-Fat Meat; 5 Fat
Carbohydrate Choice: 5 1/2
*Percent Daily Values are based on a 2,000 calorie diet.
Preparation
Heat oven to 350°F. Line bottom of 13x9-inch pan with cooking parchment paper, and spray with cooking spray. Make and bake brownies as directed on box. Cool 30 minutes, then freeze in pan 1 hour. Using 3-inch round cutter, cut 10 brownie rounds.
In medium microwavable bowl, microwave butter uncovered on High 30 seconds or until melted. Add marshmallows, and microwave in additional 30-second increments, stirring until combined and marshmallow mixture is melted. Add chow mein noodles; stir until coated. Working quickly with buttered hands, form about 1/2 cup mixture into a nest. Repeat for a total of 10 nests. Let stand 15 minutes.
Place 1 chow mein nest on top of each brownie round. Top each with candies and 1 PEEPS® chick.
Recipe Tips
Make an assortment of nests using different colored PEEPS® chicks.
Store in loosely covered container.
Check out other PEEPS® inspired recipes!
Simple for You, Easy for Them.