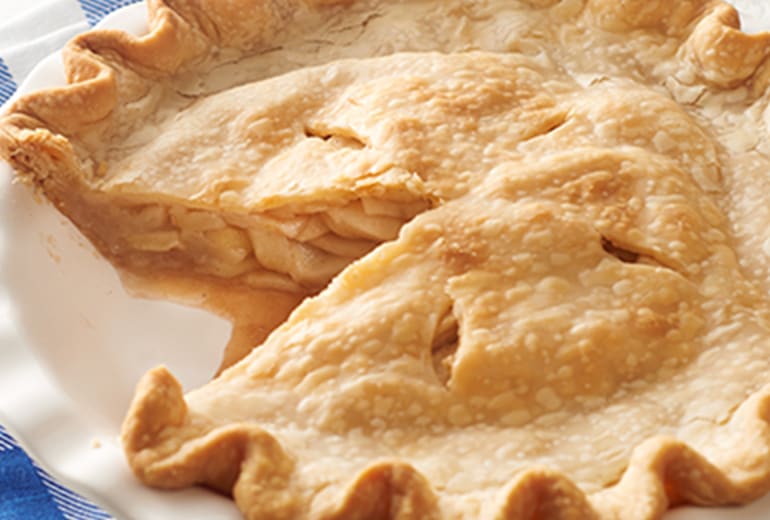 Perfect Apple Pie
Our classic apple pie takes a shortcut with easy Pillsbury™ refrigerated pie crust! Baked with a filling of fresh apples and warm spices, there is as much simple joy in preparing this pie as there is in eating it. Each bite makes your friends and family feel warm, cozy and like they're wrapped in a hug. Whether you bake it for a holiday, a potluck or as a special weekend dessert, this timeless pie recipe is guaranteed to spark joy.
Ingredients
Crust
1 box Pillsbury™ refrigerated pie crusts, softened as directed on box
Filling
6 cups thinly sliced, peeled apples (6 medium)
3/4 cup sugar
2 tbsp all-purpose flour
3/4 tsp ground cinnamon
1/4 tsp salt
1/8 tsp ground nutmeg
1 tbsp lemon juice
Nutrition
1 Serving: Calories 230 (Calories from Fat 60), Total Fat 6g (Saturated Fat 2 1/2g, Trans Fat 0g), Cholesterol 0mg, Sodium 200mg, Potassium 80mg, Total Carbohydrate 43g (Dietary Fiber 1g, Sugars 27g), Protein 1g
% Daily Value*: Vitamin A 0%, Vitamin C 4%, Calcium 0%, Iron 0%
Exchanges: 1 Starch; 1/2 Fruit; 1 1/2 Other Carbohydrate; 1 Fat
*Percent Daily Values are based on a 2,000 calorie diet.
Preparation
Heat oven to 425°F. Place 1 pie crust in ungreased 9-inch glass pie plate. Press firmly against side and bottom.
In large bowl, gently mix filling ingredients; spoon into crust-lined pie plate. Top with second crust. Wrap excess top crust under bottom crust edge, pressing edges together to seal; flute. Cut slits or shapes in several places in top crust.
Bake 40 to 45 minutes or until apples are tender and crust is golden brown. Cover edge of crust with 2- to 3-inch wide strips of foil after first 15 to 20 minutes of baking to prevent excessive browning. Cool on cooling rack at least 2 hours before serving.
Recipe Tips
Let the pie cool for at least 2 hours before cutting into it. The filling will thicken as it cools, making it easier to slice.
The flour tossed with the fresh apples turns their juices into a thickened, spiced sauce during baking. Mix it with the sugar and spices before tossing the mixture with the apples.
Two (21-oz.) cans apple pie filling can be used if you're short on time.
Refrigerated pie crusts should be baked in glass pie plates. A dark pan will cause too much browning while a shiny pan will prevent your pie from achieving the golden-brown crust that makes apple pie irresistible.
To prevent your crust from burning, cover the edges with strips of foil 20 minutes into the bake time.
When you use refrigerated pie crust, you must allow the dough to soften before you use it. Otherwise you will have difficulty pressing the dough and getting it to adhere to the pie plate.
Simple for You, Easy for Them.