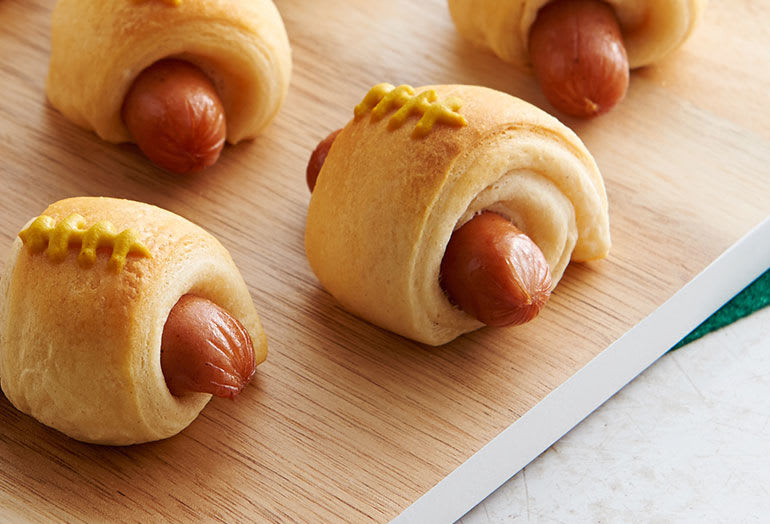 Pigskins in a Blanket
Are you ready for some crescent dog footballs? All your rowdy friends will enjoy these fun game-day snacks.
Ingredients
2 cans (8 oz each) Pillsbury™ refrigerated crescent rolls
48 cocktail-size smoked link sausages or hot dogs (from two 14-oz packages)
Yellow mustard, from a squeeze bottle
Nutrition
Serving Size: 1 Dog
Calories 60 (Calories from Fat 45); Total Fat 5g; (Saturated Fat 2g, Trans Fat 0g); Cholesterol 5mg; Sodium 190mg; Potassium 15mg; Total Carbohydrate 4g; (Dietary Fiber 0g, Sugars 0g); Protein 1g
% Daily Value: Vitamin A 0%; Vitamin C %; Calcium 0%; Iron 0%
Exchanges: 0 Starch; 0 Fruit; 1/2 Other Carbohydrate; 0 Skim Milk; 0 Low-Fat Milk; 0 Milk; 0 Vegetable; 0 Very Lean Meat; 0 Lean Meat; 0 High-Fat Meat; 1 Fat;
*Percent Daily Values are based on a 2,000-calorie diet.
Preparation
Heat oven to 375°F. Unroll both cans of dough; separate into 16 triangles. Cut each triangle lengthwise into 3 narrow triangles.
Place 1 sausage on thin point of each triangle. Roll up, starting at point and rolling to opposite short side of triangle. Place seam side down on 2 ungreased cookie sheets.
Bake 11 to 14 minutes or until golden brown, switching position of cookie sheets halfway through baking. Immediately remove from cookie sheets to serving tray.
Cool 2 minutes. Squeeze 1 line of mustard crosswise and 3 lines lengthwise to make laces of football. Repeat with remaining crescent dogs.
Simple for You, Easy for Them.