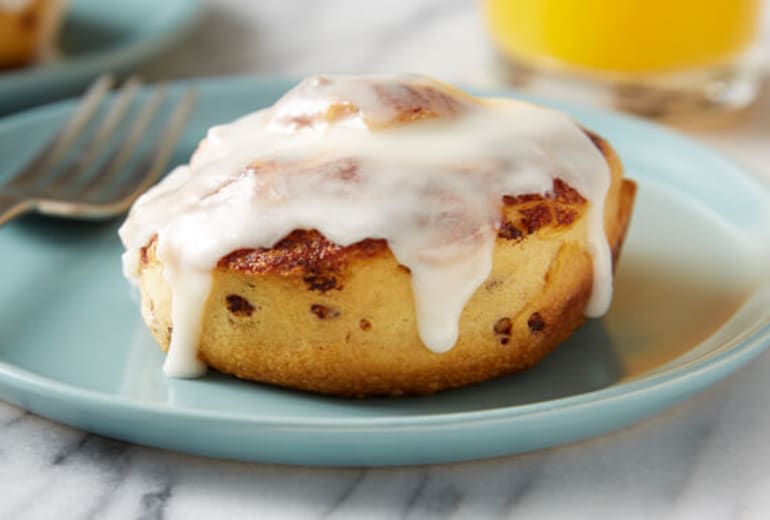 Pillsbury™ Cinnamon Rolls
What could be better than cinnamon rolls for breakfast? Cinnamon Rolls for dessert. Pillsbury™ original cinnamon rolls make it as easy, as it is delicious.
Skip to Recipe Video
Ingredients
1 can (7.3 oz) Pillsbury™ refrigerated cinnamon rolls (5 rolls)
Nutrition
Serving Size: 1 roll with icing
Calories 140; Total Fat 4.5g; (Saturated Fat 3g, Trans Fat 0g); Cholesterol 0mg; Sodium 330mg; Total Carbohydrate 24g; (Dietary Fiber 1g); Sugars 11g; Protein 2g
% Daily Value: Vitamin A 0%; Vitamin C 0%; Calcium 0%; Iron 4%
*Percent Daily Values are based on a 2,000 calorie diet.
Preparation
Heat Oven to 400 (or 375 for nonstick pan). Grease round cake pan.
Place rolls in pan, cinnamon topping up.
Bake 13 to 17 minutes or until golden brown.
Spread with icing.
Recipe Tips
Faster bake method: Place rolls 2 inches apart on greased cookie sheet. Bake 8 to 10 minutes at temperature above.
Recipe Video
Pillsbury™ Cinnamon Rolls
Simple for You, Easy for Them.