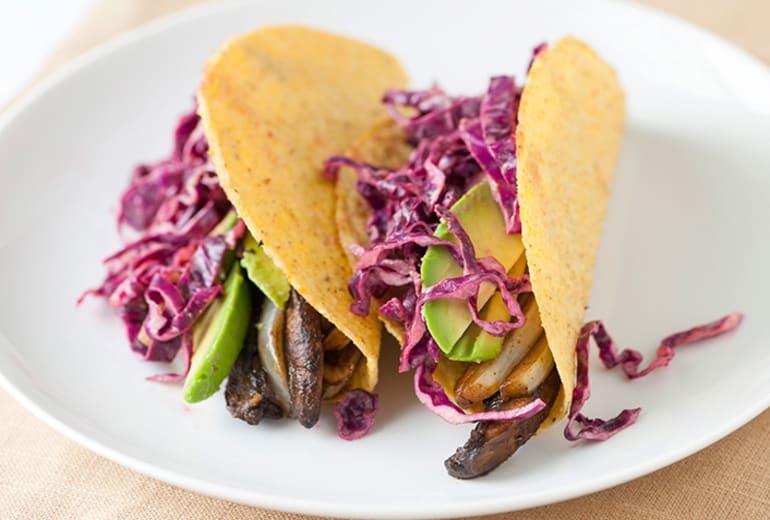 Portabella Tacos with Spicy Cabbage Slaw
A satisfying meatless taco with portabella mushrooms, avocado and a spicy slaw.
Ingredients
Spicy Cabbage Slaw

1 cup shredded red cabbage
2 tablespoons lime juice
1 tablespoon finely chopped chipotle chiles in adobo sauce (from 7-oz can)
1 tablespoon sour cream
1/8 teaspoon salt

Tacos

1 box (4.6 oz) Old El Paso™ taco shells (8 shells)
1 tablespoon olive oil
4 portabella mushroom caps, cut into 1/4-inch slices
1/2 medium onion, cut into 1/4-inch slices
1 teaspoon chili powder
1/2 teaspoon Montreal steak grill seasoning
1 avocado, pitted, peeled and sliced
Preparation
In small bowl, mix all slaw ingredients; set aside.
Heat taco shells as directed on box.
Meanwhile, in large skillet, heat oil over medium-high heat. Cook mushrooms in oil 3 to 5 minutes, stirring occasionally, until they begin to brown. Add onion; cook 2 to 3 minutes longer. Stir in chili powder and grill seasoning.
To serve, spoon mushroom mixture into warmed taco shells; top with avocado slices and spicy cabbage slaw.
Recipe Tips
This same slaw is perfect on our Sweet-and-Sour Portabella Sliders, so you can keep those ingredients on hand to make a different recipe another night.Replace the spicy cabbage slaw with finely shredded iceberg lettuce, diced tomato and sour cream for a mild taco, perfect for kids.
Make chicken-mushroom tacos by adding 1/2 to 1 cup of diced or shredded cooked chicken. Add after the onion and heat until mixture is hot.
Simple for You, Easy for Them.