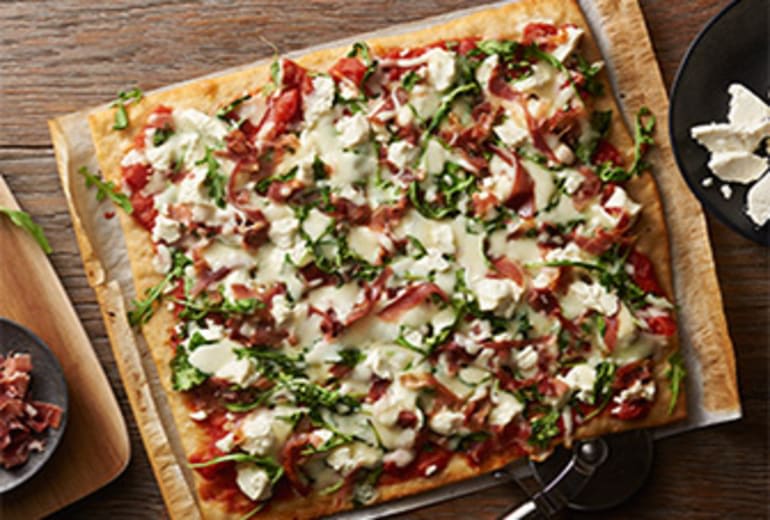 Prosciutto and Goat Cheese Pizza
Arugula, tomatoes, olive oil, prosciutto and goat cheese – no, it's not a salad – it's an incredibly easy thin-crust pizza that you can prep in just 25 minutes.
Ingredients
1 package Pillsbury's Best™ refrigerated thin crust pizza dough
2 teaspoons olive oil
½ cup Muir Glen™ organic crushed tomatoes with basil (from 14.5-oz can)
2 cloves garlic, finely chopped
½ teaspoon crushed red pepper flakes
2 cups baby arugula leaves
4 goat cheese (chevre), crumbled
½ cup thinly sliced prosciutto, torn (2 oz)
1 ½ cups shredded mozzarella cheese (6 oz)
Nutrition
1 Serving: Calories 470 (Calories from Fat 230); Total Fat 25g; (Saturated Fat 13g, Trans Fat 1/2g); Cholesterol 65mg; Sodium 1027mg; Potassium 180mg; Total Carbohydrate 33g; (Dietary Fiber 1g); Sugars 4g; Protein 27g
% Daily Value: Vitamin A 25%; Vitamin C 0%; Calcium 60%; Iron 15%
Exchanges: 2 Starch; 0 Fruit; 0 Other Carbohydrate; 0 Skim Milk; 0 Low-Fat Milk; 0 Milk; 1 Vegetable; 0 Very Lean Meat; 1 Lean Meat; 0 High-Fat Meat; 2 1/2 Fat;
*Percent Daily Values are based on a 2,000 calorie diet.
Preparation
Heat oven to 425°F. Place oven rack in low position. Unroll dough with oven-safe parchment paper onto ungreased large cookie sheet (dough bakes on paper). Brush with olive oil. Bake 7 minutes. Remove from oven.
Spread crushed tomatoes evenly over crust. Top with garlic and pepper flakes.
Place arugula evenly over crust. Top with goat cheese, then prosciutto, followed by mozzarella cheese.
Bake 7 to 11 minutes longer or until cheese is melted and crust is golden brown.
Recipe Tips
You're free to experiment with honey or herbed varieties of goat cheese.
Simple for You, Easy for Them.