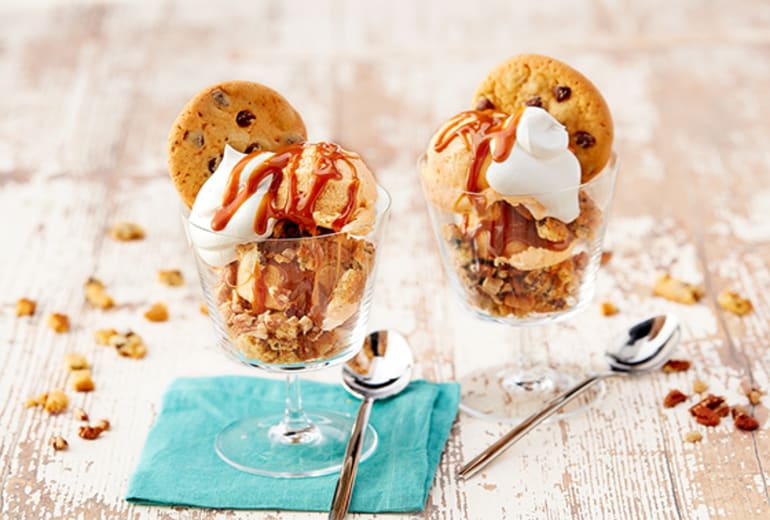 Pumpkin Pie Cookie Sundaes
Chocolate chip cookies layered with toffee bits, pecans, caramel and pumpkin ice cream make a decadent anytime dessert treat.
Ingredients
6 cookies from 1 (16 oz) package Pillsbury™ Ready to Bake!™ refrigerated chocolate chip cookies (24 ct)
¼ cup plus 2 tablespoons chopped pecans, toasted
4 teaspoons toffee bits (from 8-oz package)
2 cups pumpkin pie ice cream
2 tablespoons caramel topping
¼ cup frozen whipped topping, thawed (from 8-oz container)
Nutrition
Calories 800 (Calories from Fat 400); Total Fat 45g; (Saturated Fat 19g, Trans Fat 0g); Cholesterol 65mg; Sodium 380mg; Total Carbohydrate 90g; (Dietary Fiber 4g, Sugars 59g); Protein 8g
% Daily Value: Vitamin A 10%; Vitamin C 0%; Calcium 20%; Iron 6%
Exchanges: 2 Starch; 0 Fruit; 4 Other Carbohydrate; 0 Skim Milk; 0 Low-Fat Milk; 0 Milk; 0 Vegetable; 0 Very Lean Meat; 0 Lean Meat; 0 High-Fat Meat; 9 Fat;
*Percent Daily Values are based on a 2,000 calorie diet.
Preparation
Heat oven to 350°F. Bake cookies as directed on package. Cool completely, about 20 minutes.
In each of 2 (8-oz) parfait or drinking glasses, crumble 1 cookie; top each with 1 tablespoon of the pecans, 1 teaspoon of the toffee bits, 1/2 cup of the ice cream and 1 tablespoon of the caramel topping. Repeat layers, ending with ice cream. Top each sundae with 2 tablespoons whipped topping and 1 tablespoon pecans; drizzle with 1 tablespoon caramel sauce. Place 1 whole cookie on top of each sundae. Serve immediately.
Recipe Tips
To toast nuts, bake uncovered in ungreased shallow pan in 350°F oven about 10 minutes, stirring occasionally, until golden brown. Or cook in ungreased heavy skillet over medium-low heat 5 to 7 minutes, stirring frequently until browning begins, then stirring constantly until golden brown.
Simple for You, Easy for Them.