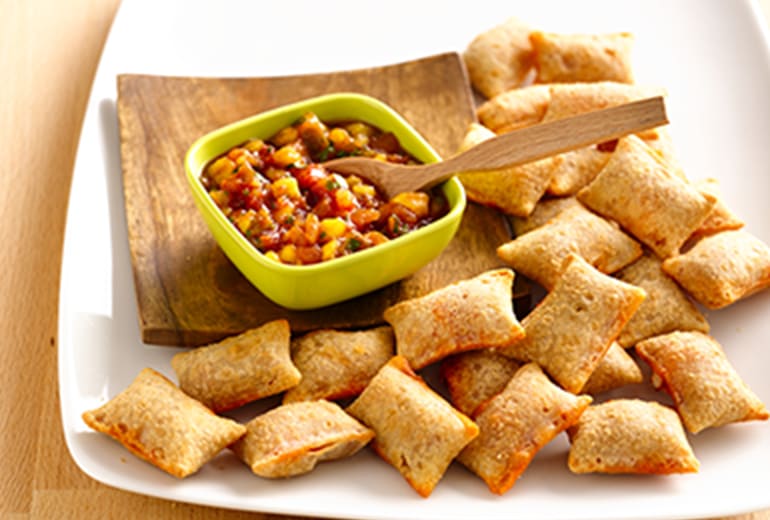 Quick Mango Salsa and Pizza Rolls®
This salsa makes a beautiful, fruity accompaniment to Totino's® pizza snacks.
Ingredients
1 cup finely chopped mango
1 cup Old El Paso™ Thick 'n Chunky salsa
1/4 cup chopped fresh cilantro
1 tbsp lime juice
32 Totino's® Pizza Rolls® frozen pepperoni or cheese pizza snacks
Nutrition
1 serving: Calories 90 (Calories from Fat 35), Total Fat 3 1/2g (Saturated Fat 1g, Trans fat 1/2g), Cholesterol 0mg, Sodium 300mg, Potassium 20mg, Total Carbohydrate 11g (Dietary Fiber 0g, Sugars 3g), Protein 2g
% Daily Value*: Vitamin A 4%, Vitamin C 4%, Calcium 2%, Iron 2%
Exchanges: 1/2 Other Carbohydrate; 1/2 High-Fat Meat
*Percent Daily Values are based on a 2,000 calorie diet.
Preparation
In medium bowl, mix mango, salsa, cilantro and lime juice. Cover; refrigerate 1 hour to blend flavors.
Bake pizza snacks as directed on package. Serve with mango salsa.
Recipe Tips
If you have a fresh lime, go ahead and use fresh squeezed lime juice instead of lime juice from a bottle.
Simple for You, Easy for Them.