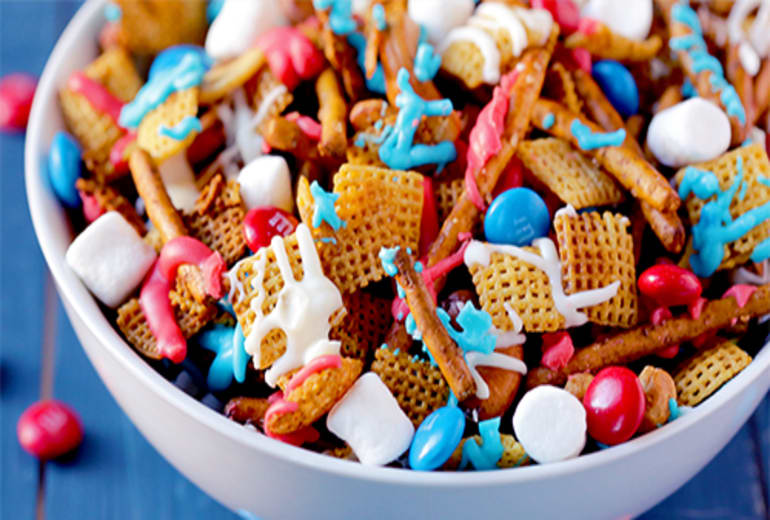 Red White and Blue Chex Mix™
Traditional Chex Mix™ goes a little sweeter and more colorful with this fun red, white, and blue patriotic version!
Ingredients
3 tablespoons butter or margarine
1 tablespoon Worcestershire sauce
3/4 teaspoon seasoned salt
1/4 teaspoon garlic powder
1/4 teaspoon onion powder
4 1/2 cups Corn Chex™ cereal
2 cup pretzels
2 cups mini marshmallows
1 cup red and blue chocolate candies
1 pound white almond bark
Red and blue gel food coloring
Preparation
In large microwavable bowl, microwave butter uncovered on High about 30 seconds or until melted. Stir in seasonings. Gradually stir in cereal and pretzels until coated.
Microwave uncovered on High 4 to 5 minutes, thoroughly stirring every 2 minutes. Spread on paper towels to cool, about 15 minutes. Stir in mini marshmallows and chocolate candies, and toss to combine.
Divide the prepared Chex Mix™ into three even portions, and spread each portion in an even layer on a foil-lined plate or baking tray.
Heat the almond bark in the microwave or in a double boiler until melted. Divide the almond bark into three equal servings. Color one serving with red gel food coloring. Color the second serving with blue gel food coloring. Then leave the third serving plain (white).
Drizzle each portion of Chex Mix™ with one color of chocolate. Then let cool for at least 15 minutes, or until the chocolate returns to room temperature. When it's ready, toss together the three colors of Chex Mix™ until combined, and serve.
Simple for You, Easy for Them.