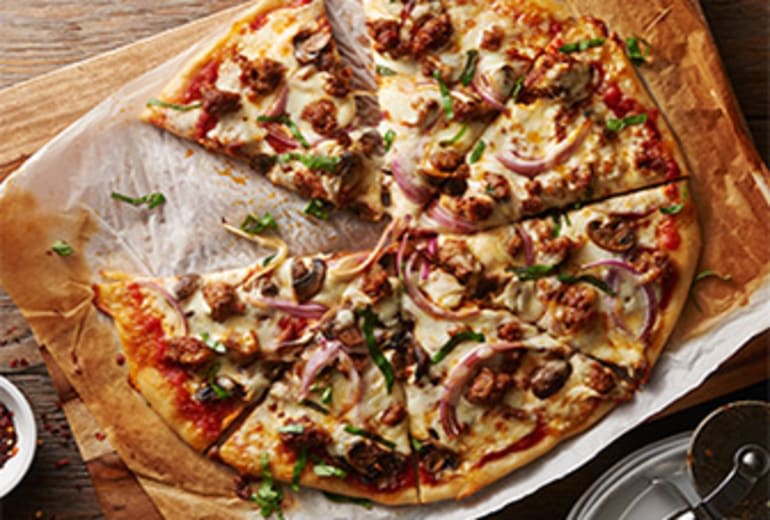 Sausage Mushroom Pizza
Hearty sausage and mushrooms team up on a delicious Pillsbury's Best™ refrigerated classic crust pizza dough crust for a classic cheesy pie that's perfect for pizza night!
Ingredients
1 tablespoon olive oil
4 oz bulk Italian sausage
1 ½ cups sliced mushrooms (4 oz)
¼ teaspoon salt
3 cloves garlic, finely chopped
1 package Pillsbury's Best™ refrigerated classic crust pizza dough
¾ cup Muir Glen™ organic tomato sauce (from 15-oz can)
½ cup thinly sliced red onion
1 ½ cups shredded mozzarella cheese (6 oz) SAVE $
2 tablespoons thinly sliced fresh basil leaves
Nutrition
1 Serving: Calories 350 (Calories from Fat 140); Total Fat 15g; (Saturated Fat 5g, Trans Fat 0g); Cholesterol 25mg; Sodium 1010mg; Potassium 160mg; Total Carbohydrate 38g; (Dietary Fiber 1g); Sugars 3g; Protein 16g
% Daily Value: Vitamin A 10%; Vitamin C 0%; Calcium 25%; Iron 10%
Exchanges: 1 Starch; 0 Fruit; 1 Other Carbohydrate; 0 Skim Milk; 0 Low-Fat Milk; 0 Milk; 1 Vegetable; 0 Very Lean Meat; 0 Lean Meat; 1/2 High-Fat Meat; 1 Fat;
*Percent Daily Values are based on a 2,000 calorie diet.
Preparation
Heat oven to 425°F. Place oven rack in low position. In 10-inch nonstick skillet, heat oil over medium heat. Add sausage, and cook 3 to 5 minutes, stirring occasionally, until no longer pink. Using slotted spoon, transfer to small bowl.
Add mushrooms and salt to drippings in skillet; cook 5 to 7 minutes, stirring frequently, until softened and browned. Stir in garlic; remove from heat.
Unroll dough with oven-safe parchment paper onto ungreased large cookie sheet (dough bakes on paper). Spread tomato sauce evenly over dough.
Top with mushroom mixture. Top with sausage, red onion and cheese. Bake 16 to 21 minutes or until crust is golden brown. Top with basil.
Recipe Tips
To save time, opt for presliced white button mushrooms.
Simple for You, Easy for Them.