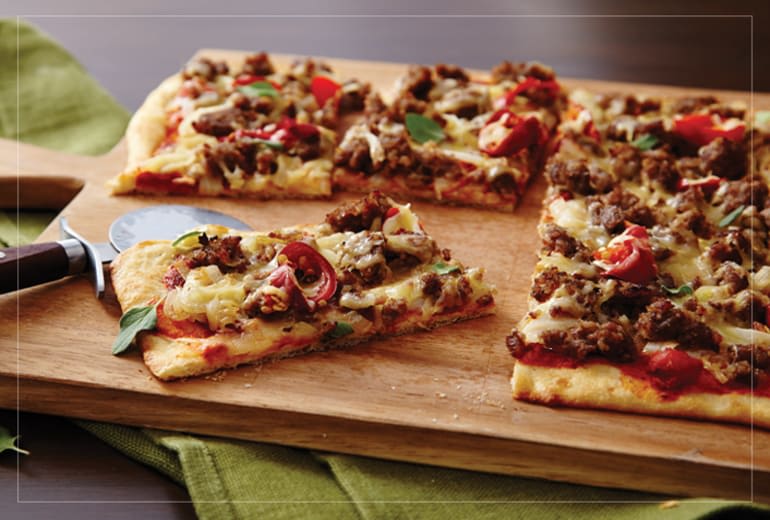 Sausage, Onion and Fennel Pizza
Ingredients
1 lb bulk pork sausage
2 tablespoons olive oil
1 cup sliced onion
1 cup thinly sliced fennel bulb
1/4 teaspoon freshly ground pepper
1 can (11 oz) Pillsbury™ refrigerated thin pizza crust
1 cup caramelized onion and roasted garlic tomato pasta sauce (from 24-oz jar)
2 cups shredded mozzarella cheese (8 oz)
1/2 cup shredded Parmesan cheese (2 oz)
1 teaspoon chopped fresh oregano leaves
Nutrition
1 Serving: Calories 450; Total Fat 29g (Saturated Fat 10g); Sodium 970mg; Total Carbohydrate 26g (Dietary Fiber 2g), Protein 23g
% Daily Value: Vitamin A 0%; Vitamin C 0%; Calcium 0%; Iron 0%
Exchanges: 1 1/2 Starch, 1/2 Vegetable, 1 High-Fat Meat, 2 1/2 Fat
*Percent Daily Values are based on a 2,000 calorie diet.
Preparation
Heat oven to 450°F. Spray cookie sheet with cooking spray.
In 12-inch skillet, cook sausage over medium-high heat 6 to 8 minutes, stirring occasionally, until no longer pink; drain. With slotted spoon, remove sausage; set aside. Add oil to drippings in skillet; add onion and fennel. Cook over medium heat 15 minutes, stirring frequently, until golden brown. Remove from heat. Stir in pepper.
Unroll dough on cookie sheet. Starting at center, press out dough to 16x13-inch rectangle. Prick crust generously with fork. Bake 5 minutes.
Spread pasta sauce over partially baked crust. Top with onion mixture, sausage and cheeses. Bake on lower oven rack 10 to 12 minutes or until cheese is golden brown. Sprinkle with oregano.
Simple for You, Easy for Them.