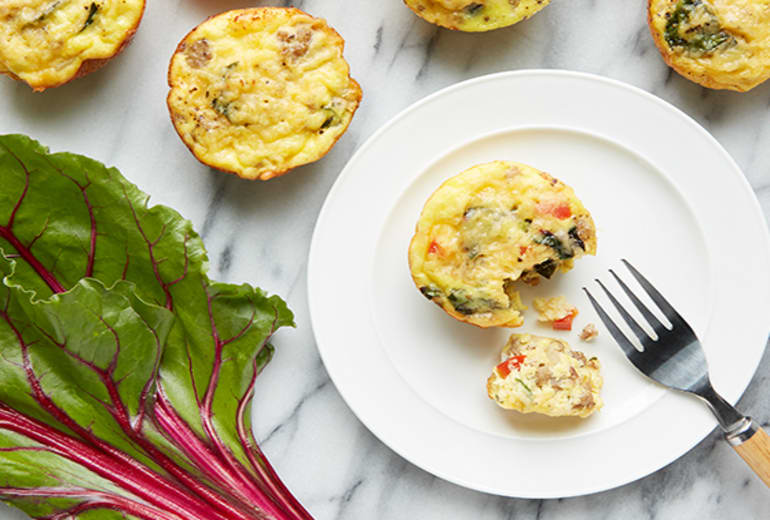 Sausage, Pepper and Chard Muffin Frittatas
These easy breakfast muffin frittatas are perfect for a crowd or meal prep—make them on Sunday to eat throughout the week.
Ingredients
1/2 lb bulk breakfast sausage
1/2 cup diced onion
1/4 cup diced red bell pepper
1 cup chopped fresh Swiss chard leaves, ribs removed
1 container (5.3 oz) YQ by Yoplait™ Plain (2/3 cup)
8 eggs
1/4 teaspoon salt
1/4 teaspoon pepper
1/2 cup shredded Gouda cheese (2 oz)
Preparation
Heat oven to 350°F. Generously spray 12 regular-size muffin cups with cooking spray.
Spray 12-inch skillet with cooking spray; place over medium-high heat. Add sausage, onion and bell pepper; cook 8 to 10 minutes or until sausage is cooked through and vegetables are tender. Stir in chard; cook 1 to 2 minutes longer or until chard is softened. Divide sausage mixture evenly among muffin cups.
In medium bowl, beat YQ with whisk. Beat in eggs, salt and pepper until well mixed. Divide egg mixture evenly over sausage mixture in muffin cups. Gently stir mixture in each muffin cup. Top with cheese. Bake 22 to 27 minutes or until centers are set.
Let stand 5 minutes. Run knife or small spatula around edges of muffins to release.
Cover and refrigerate leftovers up to 5 days. To reheat, uncover muffins, and reheat one at a time. Place muffin on microwavable plate, and microwave uncovered on High 30 to 60 seconds or until hot.
Recipe Tips
These frittatas will puff up when baking and deflate slightly as they stand for 5 minutes.
If you like more spice, try hot breakfast sausage.
Also look for YQ by Yoplait™ Plain in the larger 26 oz container.
Simple for You, Easy for Them.