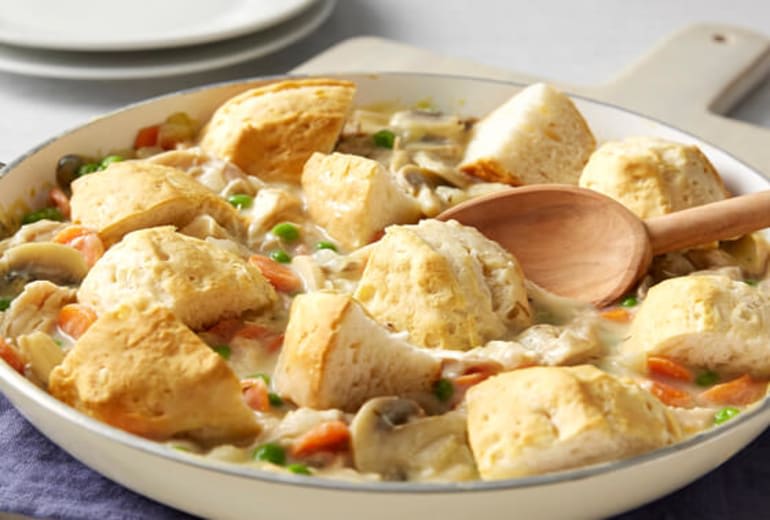 Savory Biscuit Chicken Pot Pie
This skillet chicken pot pie topped with tender biscuits comes together in just minutes for a quick weeknight meal for two.
Skip to Recipe Video
Ingredients
1 can (10.2 oz) Pillsbury™ Grands!™ Southern Homestyle refrigerated Buttermilk biscuits
2 tablespoons butter
½ cup chopped onion
½ cup thinly sliced baby carrots
1 cup sliced fresh mushrooms
2 tablespoons all-purpose flour
¼ teaspoon dried thyme leaves
¼ teaspoon salt
⅛ teaspoon ground pepper
1½ cups chicken broth (from 32-oz carton)
½ cup milk
1½ cups shredded cooked chicken
1/3 cup frozen sweet peas
Preparation
Heat oven to 375°F. Bake biscuits as directed on can.
In 10-inch nonstick skillet, melt butter over medium heat. Add onion, carrots and mushrooms; cook 3 to 4 minutes, stirring occasionally, until carrots are crisp-tender. Stir in flour, thyme, salt and pepper until well blended. Gradually stir in broth and milk. Increase heat to medium-high. Cook 4 to 6 minutes, stirring frequently, until mixture boils and is thickened. Stir in chicken and frozen peas. Reduce heat to medium-low.
Cut 3 baked biscuits into 4 pieces each (reserve remaining 2 biscuits for another use). Arrange biscuits on top, slightly pressing into chicken mixture. Cook 2 to 3 minutes longer or until thoroughly heated.
Recipe Tips
Bake the biscuits in the morning, and make our Bacon and Egg Breakfast Biscuits with 2 of the biscuits; store remaining 3 biscuits in 1-gallon resealable food-storage plastic storage bag to make this delicious chicken pot pie for dinner.
For easier preparation, purchase pre-sliced mushrooms.
Pillsbury™ Grands!™ Flaky Layers refrigerated Buttermilk biscuits (5 biscuits) can be used in this recipe. Bake biscuits at 350°F as directed on can. Make recipe as directed.
Recipe Video
Savory Biscuit Chicken Pot Pie
Simple for You, Easy for Them.