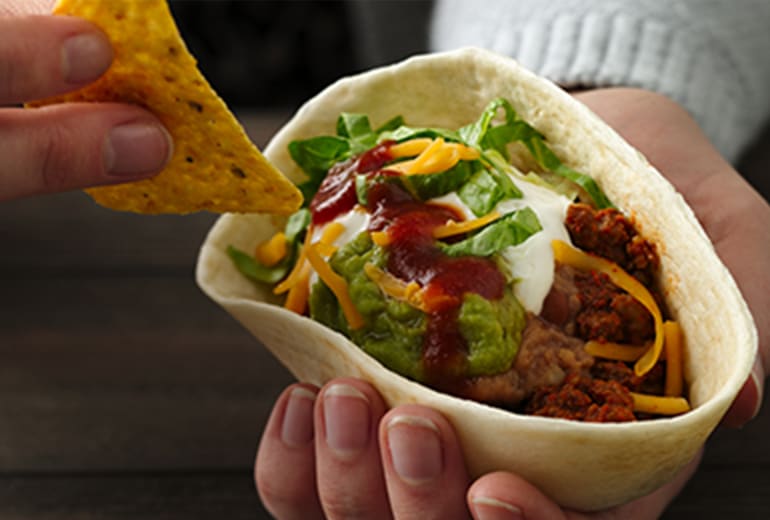 Seven Layer Stand 'N Stuff™ Tacos
Love the traditional seven layer dip? Try this dip transformed into a taco!
Ingredients
Tacos
1 package (10.9 oz) Old El Paso™ Stand 'N Stuff™ soft taco dinner kit
1 lb lean (at least 80%) ground beef
2/3 cup water
Toppings
1 cup canned Old El Paso™ refried beans, heated
1 cup sour cream
1 cup guacamole
1 cup shredded Cheddar cheese (4 oz)
1 cup shredded lettuce
Nutrition
1 Serving: Calories 350 (Calories from Fat 200), Total Fat 22g (Saturated Fat 10g, Trans Fat 1/2g), Cholesterol 65mg, Sodium 540mg, Total Carbohydrate 20g (Dietary Fiber 2g, Sugars 2g), Protein 17g
% Daily Value*: Vitamin A 10%, Vitamin C 10%, Calcium 15%, Iron 15%
Exchanges: 1 Starch; 1/2 Low-Fat Milk; 1 1/2 Lean Meat; 3 Fat; Carbohydrate Choices: 1
*Percent Daily Values are based on a 2,000 calorie diet
Preparation
Make tacos as directed on package--except after spooning beef filling into tortillas, top each with 2 tablespoons of each of the Toppings. Drizzle with Taco Sauce (from dinner kit).
Recipe Tips
Make a quick guacamole using only 4 ingredients. Simply mash together 4 pitted and peeled avocados, juice of 1 lime, 1/4 cup chopped fresh cilantro and 1/4 cup chopped red onion. Season with salt, and you are ready to go!
Simple for You, Easy for Them.