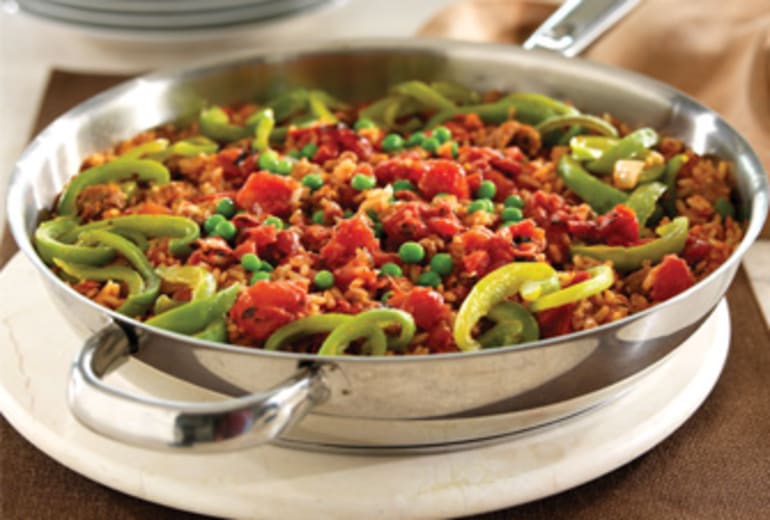 Skillet Tomato Paella
Ingredients
2 cups Progresso™ reduced-sodium chicken broth (from 32-oz carton)
8 ounces hot Italian sausage links, casings removed
2 tablespoons olive oil
1 medium red onion, chopped
4 cloves garlic, minced
11/2 cups medium-grain white rice, uncooked
3 teaspoons paprika
1 teaspoon kosher salt
2 cans (14.5 oz each) Hunt's® Fire Roasted Diced Tomatoes, undrained
1 green bell pepper, cut into long strips
1/2 cup Green Giant® frozen green peas, optional
Nutrition
Serving Size: 6 servings (1 -1/4 cups each) Calories 370; Total Fat 12g (Saturated Fat 3g); Cholesterol 20mg; Sodium 1063mg; Carbohydrate 52g; (Dietary Fiber 4g, Sugars 6g); Protein 12g; % Daily Values*: Vitamin A 16%; Vitamin C 40%; Calcium 7%; Iron 21%
*Percent Daily Values are based on a 2,000-calorie diet.
Preparation
Heat broth in small saucepan; keep warm.
Heat large 12-inch skillet over medium-high heat. Add sausage and cook 5 minutes or until crumbled and browned. Add oil, onion and garlic to skillet; cook 4 minutes.
Stir in rice, paprika and salt until well combined. Add undrained tomatoes and mix in evenly. Place bell pepper strips in a circle around edge of skillet.
Add 1 cup warm broth; simmer over medium-low heat 5 minutes without stirring. Add remaining 1 cup broth, cover and simmer 35 minutes or until most of liquid has been absorbed. Sprinkle green peas over paella, cover and let stand 5 minutes before serving.
Simple for You, Easy for Them.