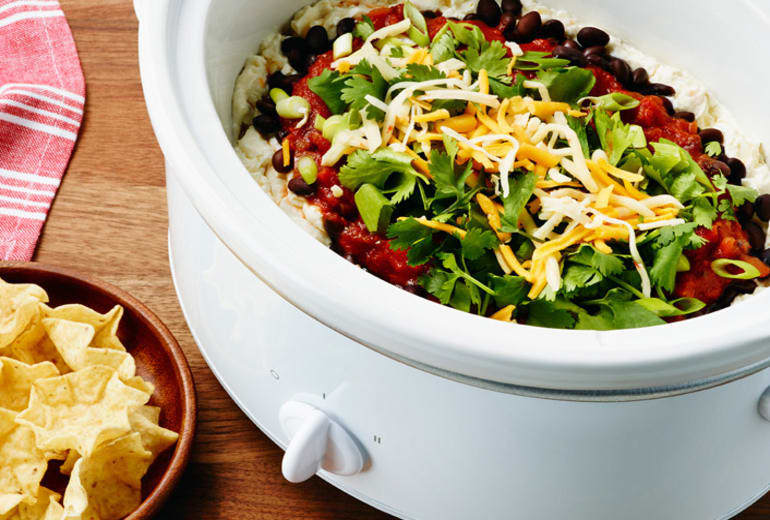 Slow Cooker Easy Mexican Party Dip
Black beans, salsa and fresh cilantro give the usual cream cheese-sour cream combination a great Mexican-style appeal. Let the fiesta begin!
Ingredients
1 package (8 oz) Philadelphia® Cream Cheese, softened
1/2 cup Breakstone's® or Knudsen® Sour Cream
1 cup Kraft® Mexican Style Shredded Four Cheese with a touch of Philadelphia®, divided
1 can (15 oz) black beans, rinsed
1 jar (16 oz) Taco Bell® Thick & Chunky Salsa
2 green onions, sliced
1/4 cup chopped fresh cilantro
Nutrition
1 Serving (2 Tbsp): Calories 50; Total Fat 3.5g (Saturated Fat 2g) Cholesterol 10mg; Sodium 130mg; Total Carbohydrate 4g, Sugar 1g, (Dietary Fiber 1g); Protein 2g
% Daily Value: Vitamin A 4%; Vitamin C 0%
*Percent Daily Values are based on a 2,000 calorie diet.
Preparation
Mix cream cheese, sour cream and 3/4 cup shredded cheese until blended; spread onto bottom of slow cooker sprayed with cooking spray.
Top with beans, then salsa; cover with lid.
Cook on LOW 3 to 4 hours. Top with onions, cilantro and remaining cheese.
Simple for You, Easy for Them.