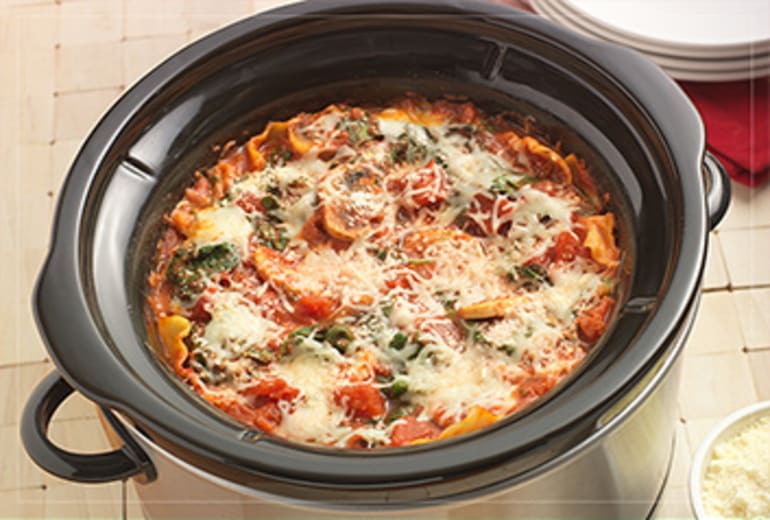 Slow Cooker Mushroom Spinach Lasagna
Etruscan paintings of banquets show the guests eating something like lasagna!
Ingredients
PAM® Original No-Stick Cooking Spray
1 tablespoon olive oil
1 pkg (8 oz) fresh sliced mushrooms
1 pkg (6 oz) baby spinach leaves
1 can (14.5 oz) Hunt's™ diced tomatoes with basil, garlic and oregano, undrained
2 cans (8 oz) Hunt's™ tomato sauce*
1/2 teaspoon dried Italian seasoning
1/4 teaspoon salt
1 container (8 oz) part-skim ricotta cheese
1/2 cup grated Parmesan cheese, divided
1/4 teaspoon ground black pepper
6 dry lasagna noodles, uncooked
1-1/2 cups shredded Italian blend or mozzarella cheese, divided
Nutrition
A vegetarian lasagna recipe made with a mushroom-spinach-tomato sauce layered with uncooked lasagna noodles and cheese in a slow cooker.
1 Serving: (1/6th recipe each) Calories 327; Total Fat 13 g(Saturated Fat 6 g); Cholesterol 36 mg; Sodium 1212 mg; Carbohydrate 32 g; (Dietary Fiber 4 g, Sugars 8 g); Protein 18 g
% Daily Value*: Vitamin A 70%; Vitamin C 35%; Calcium 41%; Iron 14%
*Percent Daily Values are based on a 2,000 calorie diet.
Preparation
Spray inside of 4-quart slow cooker with cooking spray. Heat oil in large skillet over medium-high heat. Add mushrooms; cook 3 minutes, stirring occasionally. Add spinach; cook 3 minutes more or until mushrooms are tender and spinach is wilted, stirring occasionally. Stir in undrained tomatoes, tomato sauce, Italian seasoning and salt. Bring to a boil. Reduce heat and simmer 3 minutes, stirring occasionally. Meanwhile, combine ricotta cheese, 1/4 cup Parmesan cheese and pepper in small bowl; set aside.
Spread 3/4 cup sauce mixture over bottom of slow cooker. Layer 3 lasagna noodles over sauce mixture, breaking noodles to fit. Top with 3/4 cup sauce mixture, ricotta cheese mixture and 1 cup Italian cheese. Top with 3/4 cup sauce mixture and remaining 3 lasagna noodles, breaking to fit. Spoon remaining sauce mixture over noodles.
Cover; cook on LOW 5 hours or until noodles are tender. Sprinkle with remaining 1/2 cup Italian cheese and remaining 1/4 cup Parmesan cheese. Cover; let stand 5 minutes or until cheese melts.
Simple for You, Easy for Them.