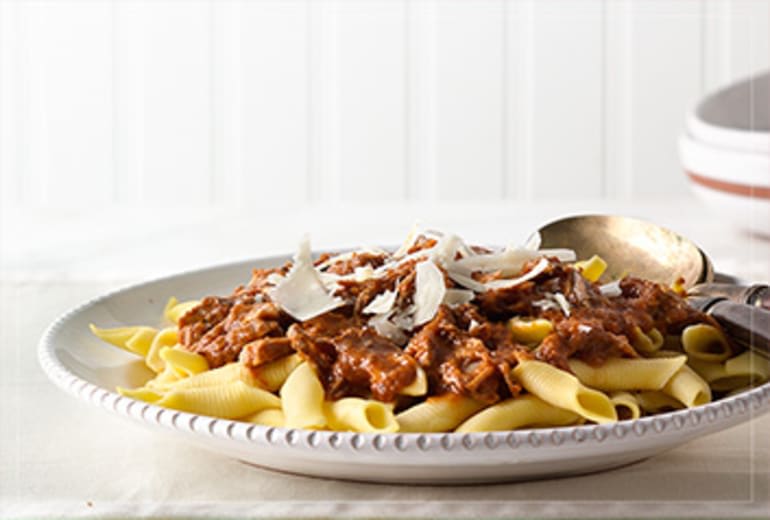 Slow-Cooker Pork Shoulder Sugo
In Italy, there are over 450 pasta shapes and practically as many types of sauce!
Ingredients
Wesson® Oil
2 medium onions, coarsely chopped (3 cups)
3 carrots, coarsely chopped
3 celery stalks, coarsely chopped
1 bulb garlic, peeled
5 teaspoons salt
1 tablespoon dried oregano
1 to 2 teaspoons red pepper flakes
1 tablespoon vegetable oil
3 to 4 lbs boneless pork shoulder roast, trimmed
1/2 cup dry red wine
1 can (28 oz) Muir Glen™ organic fire roasted crushed tomatoes, undrained
1 carton (32 oz) Progresso™ unsalted chicken stock*
6 oil-packed anchovies
Nutrition
Mamma mia! This slow-cooked shoulder tastes like you slaved over your Sunday gravy all weekend long.
Don't worry – we won't tell!
1 Serving: Calories 130 (Calories from Fat 60)
% Daily Value Total: Fat 0g (Saturated Fat 2 1/2g, Trans Fat 0g), Cholesterol <35mg; Sodium 580mg; Potassium 240mg; Total Carbohydrate 0g (Dietary Fiber 0g Sugars 9g), Protein 12g
% Daily Value*: Vitamin A 0%; Vitamin C 0%; Calcium 0%; Iron 0%
*Percent Daily Values are based on a 2,000 calorie diet.
Preparation
In large bowl, mix onions, carrots, celery, garlic, salt, oregano and red pepper flakes. Set aside.
In 12-inch skillet, heat oil over medium-high heat. Cook pork shoulder 4 minutes on fattiest side, then turn and cook 3 minutes each on other 3 sides. Transfer to 6-quart slow cooker.
Add onion mixture to skillet with pork juices; cook 5 to 8 minutes, stirring frequently, until beginning to brown. Add red wine; cook 1 to 2 minutes, stirring frequently, until all liquid is absorbed. Stir in tomatoes; cook 3 to 5 minutes, stirring constantly, until mixture thickens. Pour mixture over pork in slow cooker. Add stock and anchovies; stir liquid. Cook on Low heat setting 8 hours or High heat setting 4 hours.
Transfer pork to cutting board; cool slightly. Cool liquid 10 minutes, then carefully puree in blender in batches, and return to slow cooker. Set slow cooker to Warm heat setting. Shred pork, discarding any pieces of fat. Add pork to liquid in slow cooker, and stir to combine.
Simple for You, Easy for Them.