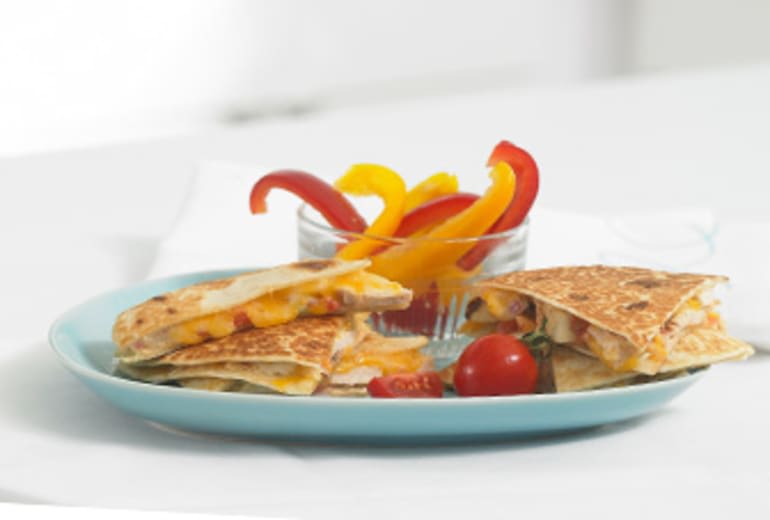 Speedy Salsa-Chicken Quesadillas
Ingredients
1/2 cup TACO BELL® Thick & Chunky Salsa
2 Tbsp. KRAFT™ Miracle Whip Dressing
1/2 tsp. chili powder
8 flour tortillas (6 inch
3/4 lb. cooked boneless skinless chicken breasts, sliced
1 cup KRAFT™ Mexican Style Finely Shredded Four Cheese
Nutrition
Serving Size: 4 servings, 6 wedges each AMOUNT PER SERVING Calories 480 % Daily Value: Total Fat 18g; Saturated Fat 8g; Cholesterol 100mg; Sodium 910mg; Carbohydrate 39g, Dietary fiber 2g; Sugars 2g, Protein 37g; Vitamin A 10% DV, Vitamin C 4% DV, Calcium 25% DV, Iron 15% DV
*Nutritional information is estimate based on the ingredients and cooking instructions as described in each recipe and is intended to be used for informational purposed only. Please note that nutrition details may vary based on methods of preparation, origin and freshness of ingredients used.
Preparation
Mix salsa, dressing and chili powder; spread onto tortillas.
Layer chicken and cheese on half of each tortilla; fold over to enclose filling.
Heat large skillet sprayed with cooking spray on medium heat. Add quesadillas, 2 at a time; cook 4 to 5 min. on each side or until lightly browned on both sides. Repeat with remaining quesadillas. Cut each quesadilla into 3 wedges to serve.
Simple for You, Easy for Them.