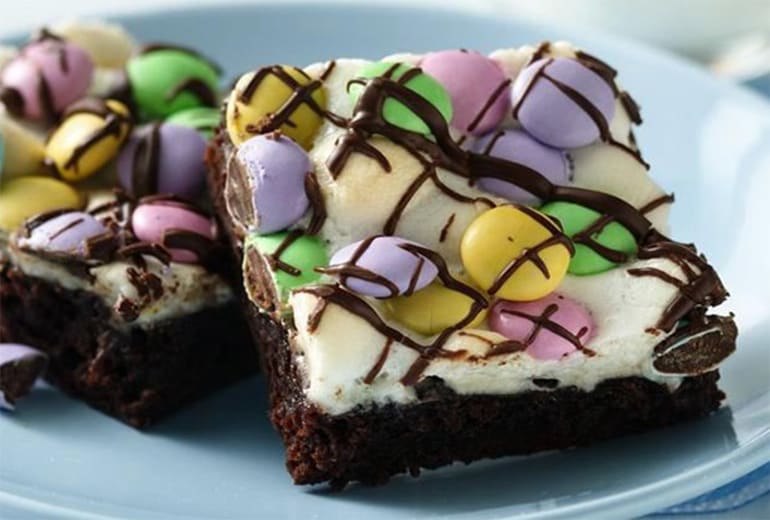 Spring Celebration Brownies
Jazz up brownies for spring with marshmallows and pretty pastels – super easy!
Ingredients
1 box (1lb. 2.4 oz) Betty Crocker™ Original Supreme Premium brownie mix
2 cups miniature marshmallows
2/3 cup pastel-colored candy-coated chocolate candies
3 tablespoons semisweet or milk chocolate chips
1/4 teaspoon shortening
Nutrition
Serving Size: 1 Brownie Calories240 Calories from Fat70 Total Fat8g Saturated Fat2 1/2g Trans Fat0g Cholesterol15mg Sodium120mg Total Carbohydrate40g Dietary Fiber1g Sugars29g Protein2g
% Daily Value*: Vitamin A0% Vitamin C0% Calcium0% Iron8%
Exchanges: 1/2 Starch; 0 Fruit; 2 Other Carbohydrate; 0 Skim Milk; 0 Low-Fat Milk; 0 Milk; 0 Vegetable; 0 Very Lean Meat; 0 Lean Meat; 0 High-Fat Meat; 1 1/2 Fat
Carbohydrate Choice: 2 1/2
*Percent Daily Values are based on a 2,000 calorie diet.
Preparation
Heat oven to 350°F (325°F for dark or nonstick pan). Grease bottom only of 9-inch square pan with cooking spray or shortening. Make brownies as directed on box--except bake 32 minutes. Sprinkle with marshmallows; bake 5 minutes longer or until marshmallows are puffed and golden. Sprinkle with candies.
In small microwavable bowl, microwave chips and shortening uncovered on High 10 to 15 seconds; stir until smooth. Drizzle over bars. Cool completely, about 1 1/2 hours. For easier cutting, use plastic knife dipped in hot water. For bars, cut into 4 rows by 4 rows.
Recipe Tips
To easily remove and cut the bars, line the pan with foil before spraying, allowing foil to extend over sides. Just lift out of the pan after cooling.
Any color candy-coated chocolate candies can be used
Simple for You, Easy for Them.