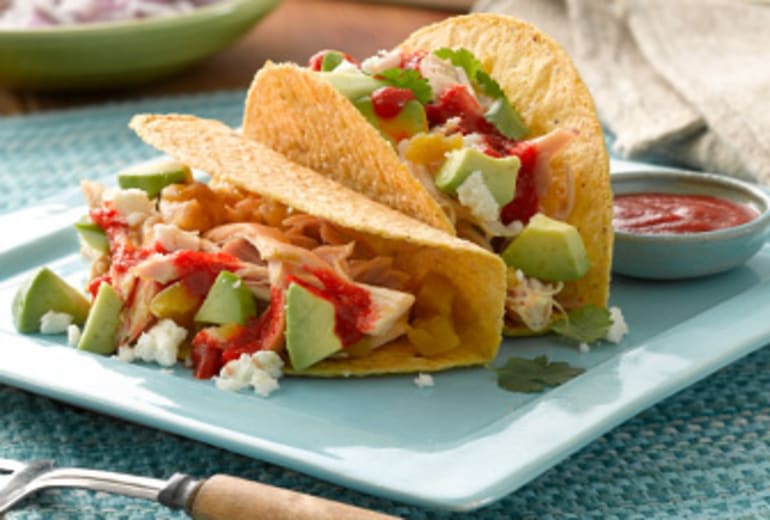 Sriracha Avocado Ten Minute Tacos
Ingredients
2 ½ cups shredded deli rotisserie chicken (from 2-lb chicken)
1 can (4.5 oz) Old El PasoTM chopped green chiles, undrained
8 Old El PasoTM Stand 'N Stuff® taco shells
1 Avocados from MexicoTM avocado, pitted, peeled and diced
½ cup crumbled or shredded cheese
Sriracha or hot sauce, for drizzling
Nutrition
These tacos come together in a flash, and really impress with delicious fresh toppings like avocado and a vibrant kick of hot sauce!
1 serving (2 tacos) Calories 400 (Calories from Fat 190), Total Fat 22g (Saturated Fat 7g, Trans Fat 0g), Cholesterol 85mg, Sodium 840 mg, Total Carbohydrate 22g (Dietary Fiber 3g, Sugars 0g), Protein 30g; % Daily Value*: Vitamin A 6%; Vitamin C 15%; Calcium 15%; Iron 10%; Exchanges: 1 ½ Starch; 0 Fruit; 0 Other Carbohydrate; 0 Skim Milk; 0 Low-Fat Milk; 0 Milk; 0 Vegetable; 0 Very Lean Meat; 3 ½ Lean Meat; 0 High-Fat Meat; 2 Fat; Carbohydrate Choices: 1 ½
*Percent Daily Values are based on a 2,000 calorie diet
Preparation
Stir warm shredded chicken together with green chiles in medium bowl.
Spoon filling into warm taco shells. Top with avocado and crumbled or shredded cheese and drizzle with sriracha sauce.
Recipe Tips
If hot sauce has too much 'kick,' drizzle with mild salsa instead.
Simple for You, Easy for Them.