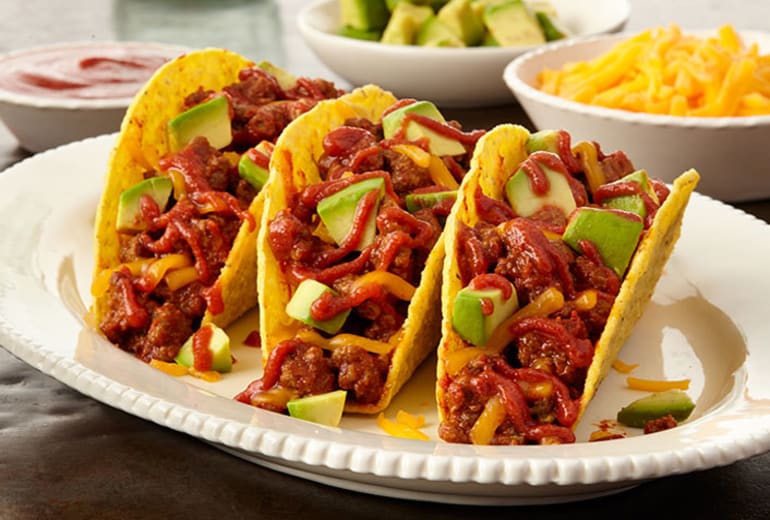 Sriracha Beef 3 Topping Tacos
This 3 topping taco doubles down on Sriracha sauce – in the beef and on the taco – to deliver a zippy, easy beef taco.
Ingredients
1 lb lean (at least 80%) ground beef
1 package (1 oz) Old El Paso™ original taco seasoning mix
2/3 cup water
1/4 cup Sriracha sauce
10 Old El Paso™ Stand 'N Stuff™ taco shells
1 cup Kraft® shredded Cheddar cheese (4 oz)
1 avocado, pitted, peeled and diced (1 cup)
Nutrition
Calories 200 (Calories from Fat 110), Total Fat 13g; (Saturated Fat 5g, Trans Fat 0g), Cholesterol 40mg, Sodium 420mg, Total Carbohydrate 9g, (Dietary Fiber 1g, Sugars 1g), Protein 11g
% Daily Value*: Vitamin A 6%; Vitamin C 8%; Calcium10%; Iron 8%
Exchanges: 0 Starch; 0 Fruit; 1/2 Other Carbohydrate; 0 Skim Milk; 0 Low-Fat Milk; 0 Milk; 0 Vegetable; 0 Very Lean Meat; 0 Lean Meat; 1/2 High-Fat Meat; 1 Fat
Carbohydrate Choices: 1/2
*Percent Daily Values are based on a 2,000 calorie diet.
Preparation
In 10-inch nonstick skillet, cook beef over medium heat 8 to 9 minutes, stirring occasionally, until brown; drain. Stir in taco seasoning mix, water and 2 tablespoon of the Sriracha sauce. Heat to boiling; reduce heat, and simmer uncovered 2 to 3 minutes, stirring frequently, until thickened.
Heat shells as directed on package. Divide beef mixture among shells; top with cheese, avocado and remaining Sriracha sauce.
Recipe Tips
To dice the avocado, cut in half, and remove pit. Using large spoon, scoop flesh from skin. Place one half avocado cut side down on cutting board. Make two horizontal cuts to make three planks, then cut lengthwise into strips. Turn 90 degrees, and cut again. Repeat with other half of avocado.
Want more than 3 toppings? Add diced tomato, sour cream and cilantro to this taco.
Simple for You, Easy for Them.