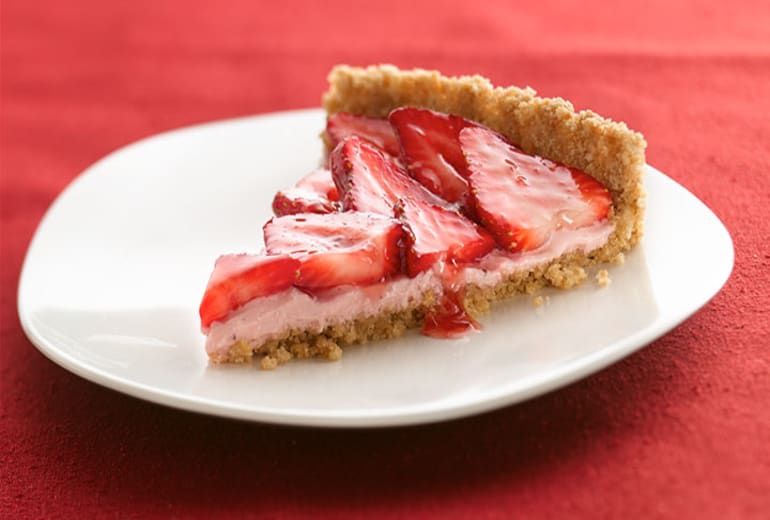 Strawberry Cream Tart
This recipe starts with a breakfast cereal crust and blends healthy-smart ingredients into a creamy, dreamy strawberry tart.
Ingredients
3 cups Honey Nut Cheerios™ cereal
1 tablespoon sugar
2 tablespoons canola or vegetable oil
4 teaspoons water
6 oz fat-free cream cheese (from 8-oz package), softened
1/3 cup strawberry fruit spread
1 teaspoon vanilla
1 lb fresh strawberries, sliced
1 tablespoon honey
Nutrition
Calories 160 (Calories from Fat 40), Total Fat 4 1/2g, (Saturated Fat 0g, Trans Fat 0g), Cholesterol 0mg, Sodium 190mg, Potassium 160mg, Total Carbohydrate 25g, (Dietary Fiber 2g, Sugars 19g), Protein 4g
% Daily Value*: Vitamin A 8%; Vitamin C 60%; Calcium 8%; Iron 10%
Exchanges: *1 Starch; 0 Fruit; 1/2 Other Carbohydrate; 0 Skim Milk; 0 Low-Fat Milk; 0 Milk; 0 Vegetable; 0 Very Lean Meat; 0 Lean Meat; 0 High-Fat Meat; 1 Fat
*Percent Daily Values are based on a 2,000 calorie diet.
Preparation
Heat oven to 350°F. Lightly spray 9-inch tart pan with removable bottom with cooking spray.
Place cereal in food processor; process until crumbly. Add sugar, oil and water; pulse just until moist. Press mixture in bottom and up side of pan. Bake 8 to 10 minutes or until light brown. Cool on cooling rack 15 minutes.
Meanwhile, in small bowl, beat cream cheese, 1/3 cup fruit spread and the vanilla with electric mixer on high speed about 1 minute or until completely blended and smooth. Spread over crust.
Arrange strawberry slices in circular pattern over cream cheese mixture.
In small microwavable bowl, mix 1 tablespoon fruit spread and the honey. Microwave uncovered on High 15 seconds; stir until blended and smooth. Spoon over strawberries. Cover; refrigerate at least 2 hours.
Recipe Tips
Strawberries provide vitamin C, also called ascorbic acid. Choosing vitamin C-rich foods keeps gums and blood vessels healthy.
Substitute Cascadian Farm™ organic apricot fruit spread for the strawberry, and use 1 pound fresh sliced apricots for the strawberries.
Simple for You, Easy for Them.