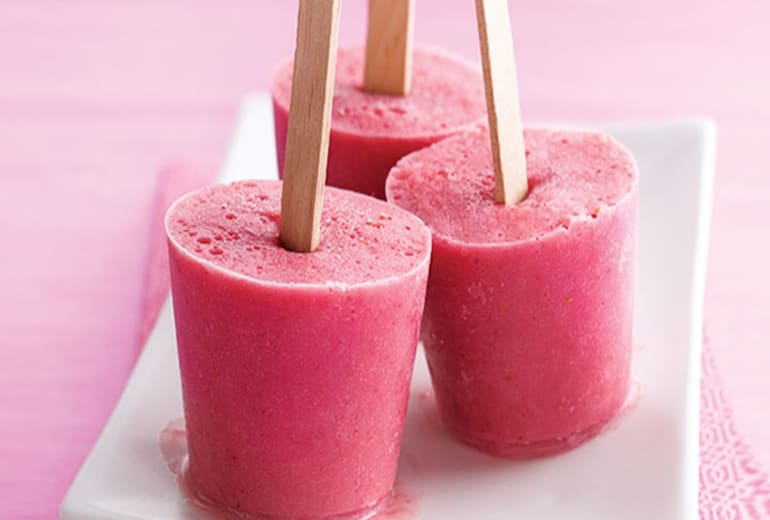 Strawberry-Peach Pops
Three simple ingredients is all you need to make these fruity pops.
Ingredients
1 cup Gatorade™ G-Series fruit punch (from 64-oz bottle)
1 cup frozen strawberries
1 container (6 oz) Yoplait® Original strawberry yogurt
8 paper cups (3-oz size)
8 craft sticks (flat wooden sticks with round ends)
Nutrition
1 Serving: Calories 30 (Calories from Fat 0); Total Fat 0g (Saturated Fat 0g, Trans Fat 0g); Cholesterol 0mg; Sodium 25mg; Potassium 35mg; Total Carbohydrate 6g (Dietary Fiber 0g); Protein 1g
% Daily Value: Vitamin A 0%; Vitamin C 20%; Calcium 2%; Iron 0%
Exchanges: 1/2 Other Carbohydrate
Carbohydrate Choices: 1/2
Preparation
™ punch, frozen strawberries and yogurt in blender. Cover; blend on high speedabout 1 minute or until smooth.
Place Gatorade
Fill each cup with about 1/3 cup yogurt mixture. Place cups in freezer until partially frozen, about 45 minutes.
Insert sticks; freeze until firm, about 3 hours. To serve, remove cups.
Simple for You, Easy for Them.