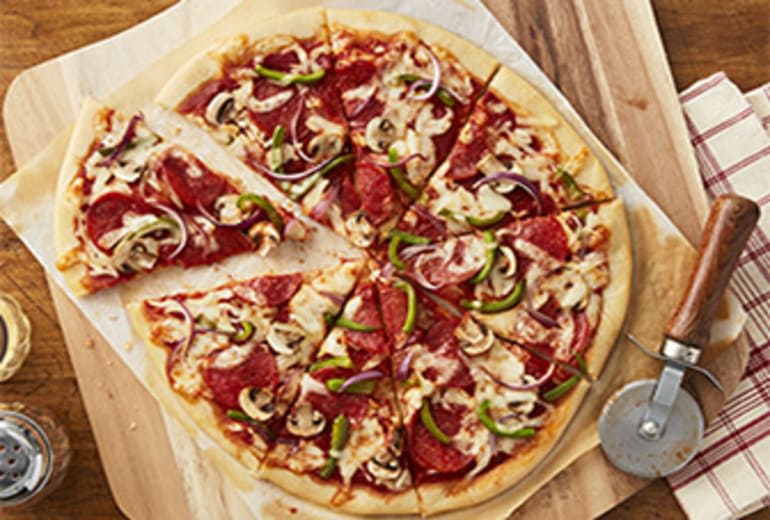 Supreme Pepperoni Pizza
This veggie and pepperoni pizza is sure to be a hit with pizza lovers.
Ingredients
1 package (14.5 oz) Pillsbury's Best™ refrigerated classic crust pizza dough
½ cup Muir Glen™ organic crushed tomatoes
½ cup sliced fresh mushrooms
¼ cup thinly sliced red onion
¼ cup sliced green bell pepper
1 cup shredded mozzarella cheese (4 oz)
½ cup (2 oz) sliced pepperoni
Nutrition
1 Serving: Calories 230 (Calories from Fat 100); Total Fat 11g; (Saturated Fat 4 1/2g, Trans Fat 0g); Cholesterol 25mg; Sodium 610mg; Potassium 170mg; Total Carbohydrate 21g; (Dietary Fiber 1g); Sugars 3g; Protein 10g
% Daily Value: Vitamin A 6%; Vitamin C 4%; Calcium 15%; Iron 6%
1 Starch; 0 Fruit; 0 Other Carbohydrate; 0 Skim Milk; 0 Low-Fat Milk; 0 Milk; 1/2 Vegetable; 0 Very Lean Meat; 0 Lean Meat; 1 High-Fat Meat; 1/2 Fat;
*Percent Daily Values are based on a 2,000 calorie diet.
Preparation
Heat oven to 400°F for nonstick sheet pan (425°F for all other pan types). Move oven rack to low position.
Unroll dough with oven-safe parchment paper* on baking sheet. *Nonstick parchment paper will brown during baking.
Spread pizza sauce evenly over dough (on parchment paper). Top with mushrooms, red onion, bell pepper and cheese. Top with pepperoni.
Bake 17 to 22 minutes or until bottom of crust is golden brown.
Recipe Tips
Any color bell peppers can be substituted for the green bell peppers in this recipe.
Add a little spice to your pizza by sprinkling with crushed red pepper flakes.
Simple for You, Easy for Them.