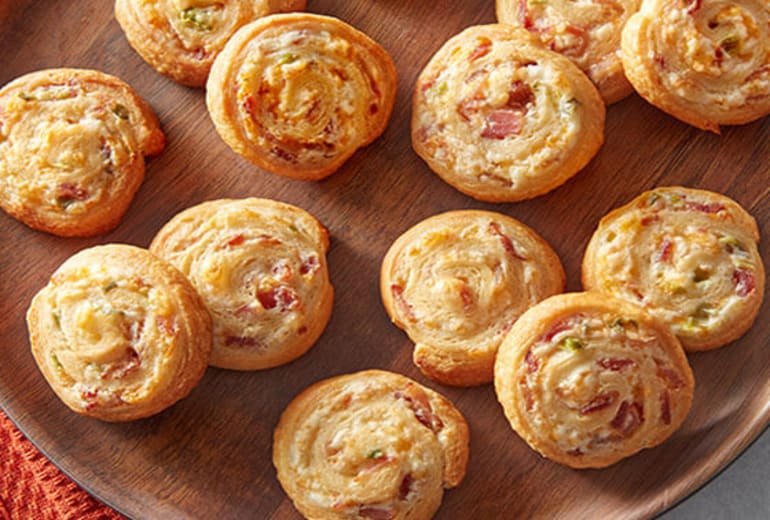 Sweet Hawaiian Jalapeño-Bacon Crescent Pinwheels
Cream cheese, bacon and spicy jalapeños balance the sweetness of sweet Hawaiian crescent rolls to perfection in these easy appetizer pinwheels that are way easier to make than they look.
Ingredients
4 cream cheese, softened (from 8-oz package)
½ cup crumbled cooked bacon (about 6 strips
½ cup finely shredded Mexican cheese blend (2 oz)
2 tablespoons chopped green onions
1 tablespoon chopped drained pickled jalapeños (from 12-oz jar)
1 can (8 oz) Pillsbury™ Sweet Hawaiian refrigerated crescent dinner rolls
Nutrition
1 Serving: 1 Pinwheel
Calories 70 (Calories from Fat 40); Total Fat 4 1/2g; (Saturated Fat 2 1/2g, Trans Fat 0g); Cholesterol 10mg; Sodium 125mg; Potassium 20mg; Total Carbohydrate 4g; (Dietary Fiber 0g); Sugars 1g; Protein 2g
% Daily Value: Vitamin A 0%; Vitamin C 0%; Calcium 2%; Iron 0%
Exchanges: 0 Starch; 0 Fruit; 1/2 Other Carbohydrate; 0 Skim Milk; 0 Low-Fat Milk; 0 Milk; 0 Vegetable; 0 Very Lean Meat; 0 Lean Meat; 0 High-Fat Meat; 1 Fat;
*Percent Daily Values are based on a 2,000 calorie diet.
Preparation
Heat oven to 375°F. Line large cookie sheet with cooking parchment paper.
In small bowl, mix cream cheese, bacon, Mexican cheese blend, green onions and jalapeños until well blended.
Unroll dough into 12x8-inch rectangle. Press perforations to seal.
Spread cream cheese mixture evenly on dough rectangle to within 1/4 inch of edges.
Starting with one long side, roll up rectangle; press seams to seal. With sharp serrated knife, cut into 24 slices. Place 1 inch apart on cookie sheet.
Bake 15 to 20 minutes or until golden brown. Serve warm.
Recipe Tips
Pickled jalapeños add the spicy heat to these pinwheels.
Simple for You, Easy for Them.