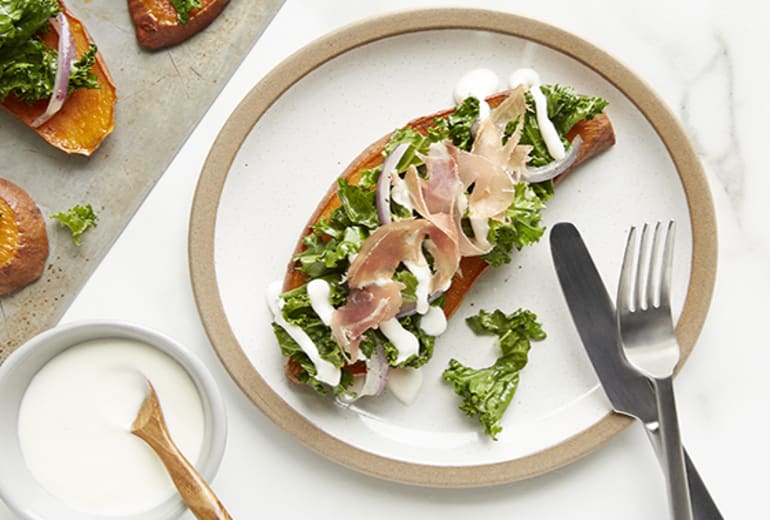 Sweet Potato Toast with Kale and Prosciutto
There's a new toast in town! Instead of bread, fill up on caramelized sweet potato planks topped with leafy kale, savory prosciutto and a tart, creamy sauce.
Ingredients
4 (1/4-inch thick) orange-fleshed sweet potato slices, cut lengthwise
3 tablespoons olive oil
¼ teaspoon smoked paprika
¼ teaspoon salt
¼ teaspoon pepper
2 cups chopped fresh kale leaves, ribs removed
¼ cup thinly sliced red onion
¼ cup YQ by Yoplait™ Plain (from 5.3 oz container)
1 tablespoon lemon juice
2 slices prosciutto, torn into 1-inch strips
Nutrition
1 Serving: Calories 180 (Calories from Fat 100); Total Fat 11g (Saturated Fat 2g, Trans Fat 0g); Cholesterol 0mg; Sodium 260mg; Potassium 310mg; Total Carbohydrate 16g (Dietary Fiber 2g); Protein 4g
% Daily Value: Vitamin A 210%; Vitamin C 10%; Calcium 4%; Iron 4%
Exchanges: 1/2 Starch, 1 1/2 Vegetable, 2 Fat
Carbohydrate Choices: 1
Preparation
Heat oven to 425°F. Brush both sides of sweet potato slices with 1 tablespoon of the olive oil; place on ungreased cookie sheet. Sprinkle with paprika and 1/8 teaspoon of the salt. Bake 15 to 20 minutes, turning once, until golden brown.
Meanwhile, in medium bowl, mix 1 tablespoon of the olive oil, remaining 1/8 teaspoon salt and the pepper. Add kale and onion; toss to coat.
Divide kale mixture evenly over sweet potato toasts. Bake 4 to 5 minutes longer or until kale wilts slightly.
Meanwhile, in small bowl, stir together YQ, remaining 1 tablespoon olive oil and the lemon juice. Drizzle YQ mixture over each toast, then top with prosciutto.
Recipe Tips
Leaving the skin on the sweet potatoes makes the slices sturdier for turning and transferring to plates.
To take the harsh edge off red onion, place the sliced onion in a strainer, and rinse under cold water 30 seconds, then pat dry before using.
Also look for YQ by Yoplait™ Plain in the larger 26 oz container.
Simple for You, Easy for Them.