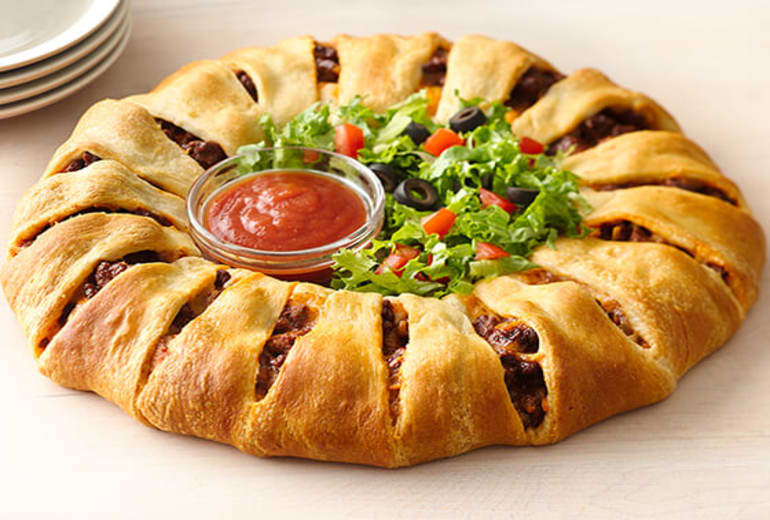 Taco Crescent Ring
It's no mistake that this genius taco crescent ring is one of the all time, most popular recipes on Pillsbury.com. It's easy, beefy, cheesy and comes loaded with all the best taco toppings. And did we mention how fun it is to make?
Ingredients
1 lb ground beef
1 package (1 oz) Old El Paso™ taco seasoning mix
½ cup water
1 cup shredded Cheddar cheese (4 oz)
2 cans (8 oz each) Pillsbury™ refrigerated crescent dinner rolls
Shredded lettuce, as desired
Chopped tomatoes, as desired
Sliced ripe olives, as desired
Taco sauce, as desired
Salsa, as desired
Nutrition
1 Serving: Calories 360 (Calories from Fat 190); Total Fat 21g (Saturated Fat 9g, Trans Fat 1/2g); Cholesterol 50mg; Sodium 810mg; Potassium 120mg; Total Carbohydrate 26g (Dietary Fiber 0g, Sugars 6g); Protein 17g
% Daily Value: Vitamin A 8%; Vitamin C 0%; Calcium 8%; Iron 10%;
Exchanges:1 Starch; 0 Fruit; 1/2 Other Carbohydrate; 0 Skim Milk; 0 Low-Fat Milk; 0 Milk; 0 Vegetable; 0 Very Lean Meat; 1 1/2 Lean Meat; 1/2 High-Fat Meat; 2 1/2 Fat;
Preparation
Heat oven to 375°F. In 10-inch nonstick skillet, cook beef until no longer pink. Add taco seasoning mix and 1/2 cup water. Simmer 3 to 4 minutes or until slightly thickened. In medium bowl, mix beef mixture and cheese.
Unroll both cans of dough; separate into 16 triangles. On ungreased large cookie sheet, arrange triangles in ring so short sides of triangles form a 5-inch circle in center. Dough will overlap. Dough ring should look like the sun.
Spoon beef mixture on the half of each triangle closest to center of ring.
Bring each dough triangle up over filling, tucking dough under bottom layer of dough to secure it. Repeat around ring until entire filling is enclosed (some filling might show a little).
Bake 20 to 25 minutes or until dough is golden brown and thoroughly baked. Cool 5 to 10 minutes before cutting into serving slices.
Recipe Tips
Don't be afraid of making this dough-wrapped pastry ring. Just work quickly as you arrange the crescent triangles in a ring on the largest flat baking sheet you have (if you only have smaller baking sheets you can overlap two of them and wrap them together with foil). Placing a glass or metal bowl that is 5-inches in diameter on the baking sheet to help guide you as you create the ring of dough.
Be sure that the meat filling is cooked and cooled a little when you begin laying the pastry dough out. Spoon the filling in an even mound that surrounds the center opening, so there's plenty of dough to wrap up and over it. Use a small metal spatula or table knife to help tuck the dough in.
For a nice glossy finish to the dough, brush it with an egg beaten with a spoonful of water before sliding it into the oven.
Simple for You, Easy for Them.