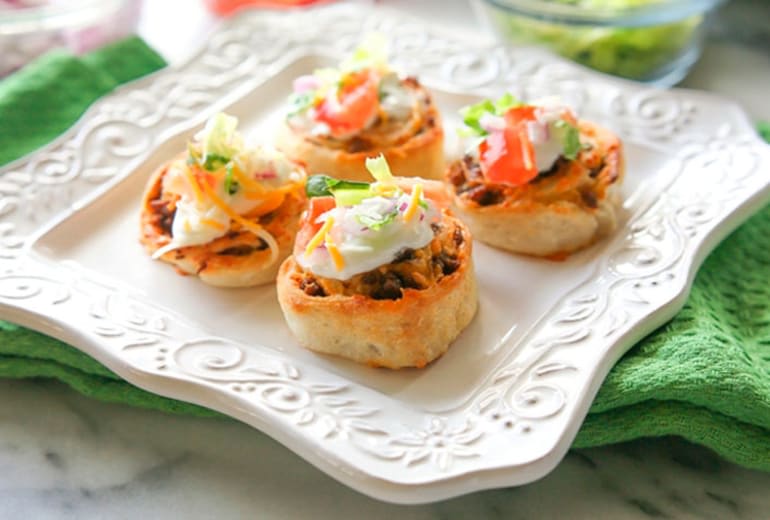 Taco Pizza Rolls
Ingredients
1/2 lb ground beef
1 can Pillsbury™ refrigerated pizza crust
2 tablespoons Old El Paso™ taco seasoning mix (from 1-oz package)
3 tablespoons water
1 cup (4 oz.) shredded KRAFT Mexican blend cheese
Optional toppings: lettuce, tomato, sour cream, onion, and guacamole
Preparation
Preheat oven to 400°F and lightly spray a baking sheet with cooking spray.
In a medium skillet, cook and brown beef until no longer pink. Drain. Add taco seasoning and water and cook for 2-3 minutes. Set aside.
Take pizza dough out of its package and unroll it onto a flat surface. Slightly roll or press the pizza dough out into a rectangle.
Add the taco meat evenly on top of the pizza dough. Sprinkle the cheese evenly on top.
Starting with the long edge of the pizza dough, roll dough tightly up into a roll. Using a serrated knife, make about 1-inch slices along the roll, making about 18 rolls.
Place rolls on prepared baking sheet. Bake for 10-12 minutes or until tops are golden brown.
Serve immediately and top with desired toppings.
Recipe Tips
Make sure when you are browning your beef to break up any big pieces of meat into smaller ones. The finer your meat, the easier it will be to roll.
Want to prepare ahead of time? These taco rolls can easily be made ahead of time and frozen until you need them.
Simple for You, Easy for Them.