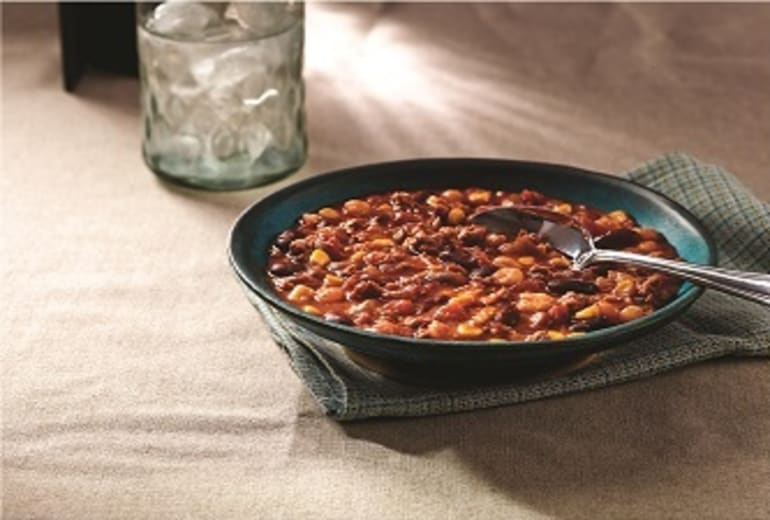 Tex-Mex Chili
Ingredients
1-1/4 lb ground turkey (or lean ground beef)
1 packet taco seasoning mix (about 1 oz)
2 (10-oz) cans Ro*Tel® Original Diced Tomatoes & Green Chilies, undrained
1 can chili beans in sauce (15–16 oz), undrained
1 can red kidney beans (15–16 oz), undrained
1 15.25-oz) can Green Giant® Southwestern corn with peppers, drained
1 (15.5-oz) can hominy, drained
1 (10-oz) can mild enchilada sauce
Nutrition
CALORIES (per 1/8 recipe) 280kcal; FAT 7g; SAT FAT 1.5g; TRANS FAT 0g; CHOL 45mg; SODIUM 1380mg; CARB 32g; FIBER 8g; SUGARS 4g; PROTEIN 21g; VIT A 15%; VIT C 8%; CALC 8%; IRON 15%
Preparation
Preheat large, nonstick sauté pan on medium-high 2–3 minutes. Place meat in pan (wash hands); brown 5–7 minutes, stirring to crumble meat, or until no pink remains. Stir in taco seasoning; transfer meat to slow cooker.
Combine remaining ingredients in slow cooker; stir in meat. Cover and cook on HIGH 3–4 hours (or LOW 6–8 hours). Serve.
Simple for You, Easy for Them.