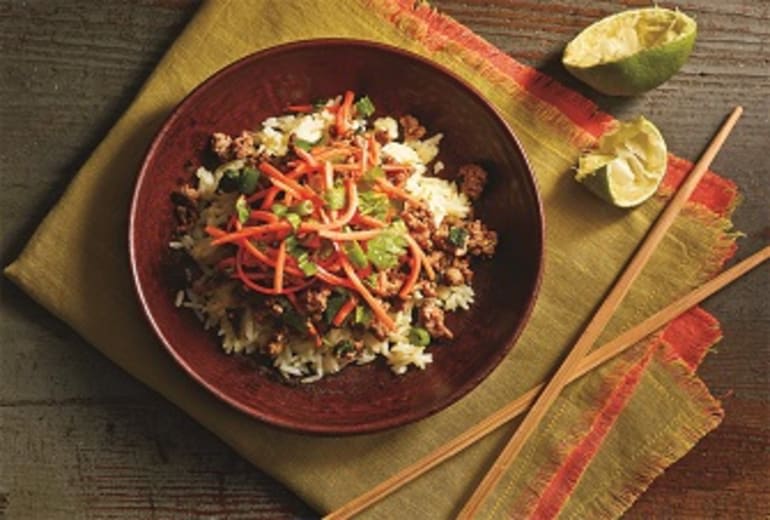 Thai Beef with Fresh Carrot Salad
Ingredients
1/4 cup fresh cilantro leaves, coarsely chopped
1 oz bag fresh basil, coarsely chopped
1 lime for juice
1 tablespoon canola oil
1 lb ground chuck beef
2 teaspoons sugar
1/2 teaspoon kosher salt
2 teaspoons minced garlic
1/2 teaspoon crushed red pepper
1/2 cup clam juice
2 tablespoons reduced-sodium soy sauce
1 (8.5-oz) package precooked jasmine rice
2 cups matchstick carrots
1/2 cup presliced green onions
1/4 cup KRAFT™ Asian Toasted Sesame Dressing
Nutrition
CALORIES (per 1/4 recipe) kcal; FAT 0g; SAT FAT 0g; TRANS FAT 0g; CHOL mg; SODIUM mg; CARB g; FIBER 0g; SUGARS 0g; PROTEIN 0g; VIT A 0%; VIT C 0%; CALC 0%; IRON 0%
Quick and delicious this baked quesadilla recipe will become a family favorite in no time.
Preparation
Prep: Chop cilantro; chop basil (about 1 cup, divided). Squeeze lime for juice (2 tablespoons). Preheat large sauté pan on medium-high 2–3 minutes. Place oil in pan, then add meat; brown 4–5 minutes, stirring to crumble meat, or until no pink remains. While meat cooks, combine lime juice, sugar, salt, garlic, red pepper, clam juice, and soy sauce. Drain meat; then return meat to pan.
Add lime juice mixture to beef; cook and stir 2 minutes or until liquid is reduced by about one-half and mixture thickens.
Remove pan from heat; stir in 1/2 cup basil. Prepare rice following package instructions for microwave.
Combine remaining 1/2 cup basil, cilantro, carrots, and green onions. Add dressing to carrot mixture; toss until evenly coated. Serve beef mixture over rice; top with carrot mixture. Serve.
Simple for You, Easy for Them.