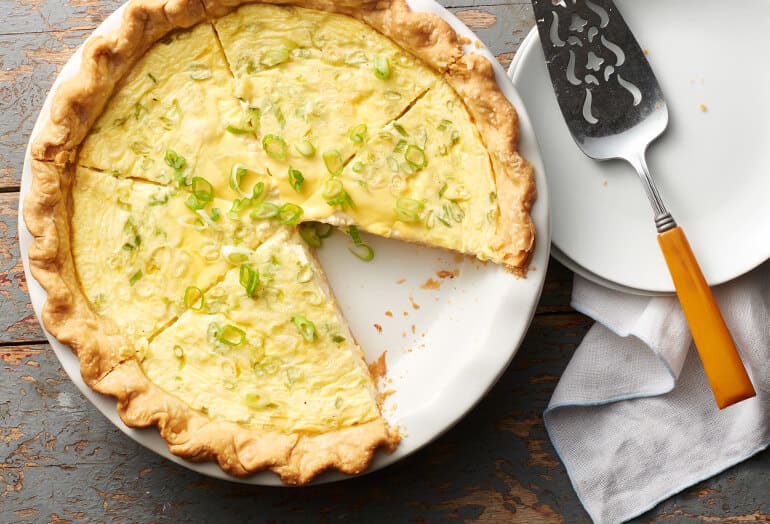 Three-Cheese Quiche
Planning an Easter or spring brunch? Keep it easy and delicious with an easy, cheesy quiche your family will love. With a refrigerated Pillsbury™ pie crust, goat cheese, cheddar cheese and mozzarella cheese, it will be hard to resist an extra slice.
Ingredients
1 refrigerated Pillsbury™ Pie Crust, softened as directed on box
2 cups half-and-half
4 eggs, slightly beaten
1/3 cup chopped green onions
1/4 teaspoon salt
1/8 teaspoon pepper
1/2 cup crumbled goat cheese (2 oz)
1/2 cup shredded cheddar cheese (2 oz)
1/2 cup shredded mozzarella cheese (2 oz)
Nutrition
1 Serving Calories 410 (Calories from Fat 260); Total Fat 29g (Saturated Fat 16g, Trans Fat 0.5g); Cholesterol 185mg; Sodium 520mg; Total Carbohydrate 21g (Dietary Fiber 0g, Sugars 4g); Protein 14g
% Daily Value: Vitamin A 15%; Vitamin C 0%; Calcium 25%; Iron 4%;
Exchanges: 1 Starch, 1/2 Other Carbohydrate, 1/2 Medium-Fat Meat, 1 High-Fat Meat, 3 1/2 Fat
Carbohydrate Choice: 1.5
Preparation
Heat oven to 350°F. Place pie crust in 9-inch glass pie plate as directed on box for One-Crust Filled Pie.
In medium bowl, mix half-and-half, eggs, green onions, salt and pepper; stir in cheeses. Pour into crust.
Bake 45 to 50 minutes or until knife inserted in center comes out clean. Let stand 5 minutes before cutting.
Recipe Tips
You can use 1 1/2 cups Italian cheese blend (6 oz) in place of the three kinds of cheese.
Add 1/8 teaspoon ground red pepper (cayenne) to the egg mixture for a little kick, if you like.
Simple for You, Easy for Them.