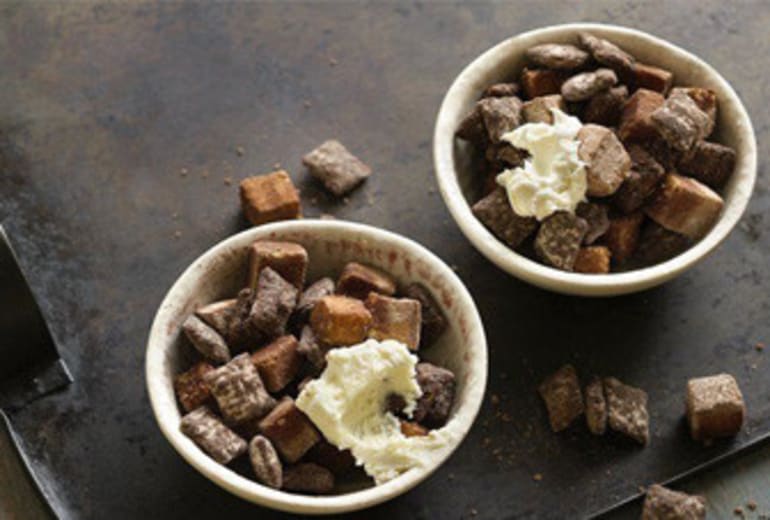 Tiramisu Chex™ Party Mix
Ingredients
8 cups Rice Chex™ cereal
½ cup butter
2 tablespoons instant espresso coffee powder, granules or crystals
1 cup semisweet chocolate chips
1 cup powdered sugar
½ cup unsweetened baking cocoa
4 cups gluten-free pound cake pieces
1 cup mascarpone cheese
Nutrition
Chocolately tiramisu flavors in an easy to make Chex® party mix.
Serving Size: 1 Serving Calories 250 (Calories from Fat 140), % Daily Value Total Fat 15g 15% (Saturated Fat 9g, 9% Trans Fat 1/2g 1/2%), Cholesterol 40mg 40%; Sodium 140mg 140%; Total Carbohydrate 26g 26% (Dietary Fiber 1g 1% Sugars 13g 13%), Protein 2g 2%; % Daily Value*: Vitamin A 8%; Vitamin C 0%; Calcium 6%; Iron 20%; Exchanges: 1/2 Starch; 0 Fruit; 1 Other Carbohydrate; 0 Skim Milk; 0 Low-Fat Milk; 0 Milk; 0 Vegetable; 0 Very Lean Meat; 0 Lean Meat; 0 High-Fat Meat; 3 Fat; Carbohydrate Choices: 2 *Percent Daily Values are based on a 2,000 calorie diet.
Preparation
In large bowl, place cereal. In small microwavable bowl, microwave butter uncovered on High about 30 seconds or until melted. Stir in espresso; add chocolate chips. Microwave on High 30 seconds; stir. Continue microwaving and stirring until mixture is smooth. Pour chocolate mixture over cereal; toss until well coated.
In large re-sealable food-storage plastic bag, mix powdered sugar and cocoa. Add cereal mixture and pound cake pieces; shake until evenly coated. Serve in individual bowls or glasses. Top with dollops of mascarpone cheese.
Simple for You, Easy for Them.