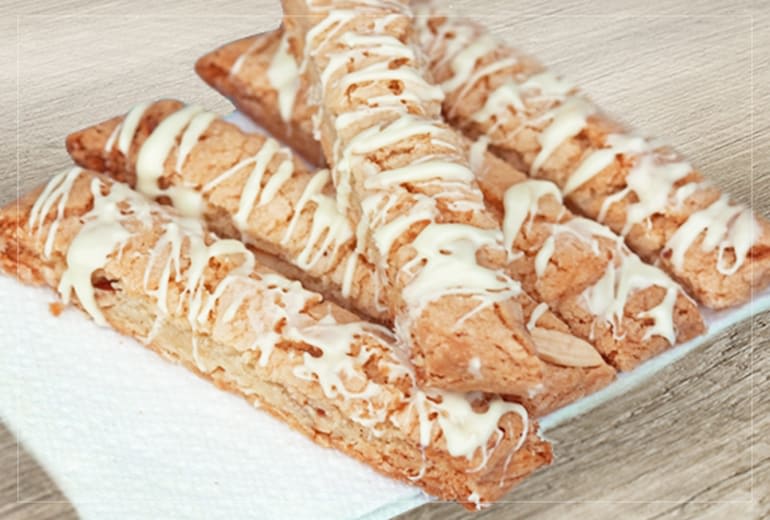 Toasted Almond White Chocolate Cantuccini
Ingredients
1/2 cup slivered almonds
1 roll (16.5 oz) Pillsbury™ refrigerated sugar cookies, softened to room temperature
1/3 cup all-purpose flour
3/4 teaspoon almond extract
3 oz white chocolate baking bars (from 6-oz package)
Preparation
Heat oven to 350°F. Line large cookie sheet with nonstick foil or spray with cooking spray. In ungreased heavy skillet, sprinkle almonds. Cook over medium heat 5 to 7 minutes, stirring frequently until nuts begin to brown, then stirring constantly until nuts are light brown; cool.
In large bowl, break up dough. Stir in flour, almond extract and toasted almonds until well mixed. Divide dough in half. On one side of foil-lined cookie sheet, shape half of dough into 11x2-inch rectangle, rounding edges slightly. Repeat with remaining dough, spacing rectangles 5 inches apart.
Bake 25 to 28 minutes or until center of cookie is set and edges are slightly browned. Carefully transfer rectangles to cutting board, using metal spatula. Cut each rectangle diagonally into 3/4-inch slices, using sharp knife. Place slices, cut sides down, on cookie sheet. Bake 10 to 12 minutes longer or until crisp and light brown. Cool completely on cookie sheet.
In small bowl, microwave baking bars uncovered on Medium (50%) 30 seconds; stir. Microwave 30 to 60 seconds longer, stirring every 30 seconds, until melted and smooth; drizzle over cantuccini. Let stand until set. Store in airtight container.
Recipe Tips
For easier slicing, cut rectangles with a straight up and down motion rather than with a sawing motion.
If you prefer, you can toast almonds in the oven. Heat oven to 350°F. Spread almonds in ungreased shallow pan. Bake uncovered 6 to 10 minutes, stirring occasionally, until light brown.
Baked cantuccini can also be frozen. Wrap 5 or 6 together tightly in plastic wrap, then place in large resealable freezer plastic bags and freeze for up to 2 months.
Simple for You, Easy for Them.