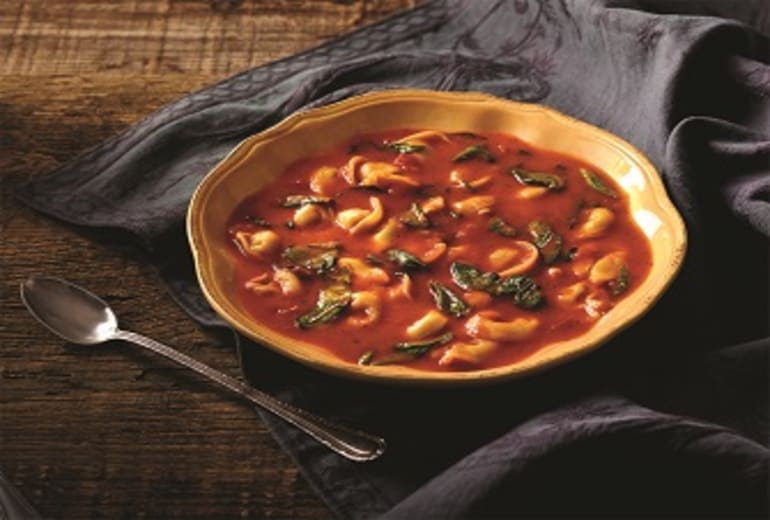 Tomato Pasta Florentine Soup
Ingredients
1 (19-oz) can Progresso™ Vegetable Classics Tomato Basil Soup
1 (14.5-oz) vegetable broth
2 tablespoons unsalted butter
4 large tomatoes
1 teaspoon dried dill weed
1/2 teaspoon kosher salt
1/4 teaspoon pepper
4 cups fresh baby spinach leaves (4 oz)
1 (19-oz) package frozen cheese-filled tortellini
Nutrition
CALORIES (per 1/6 recipe) 300kcal; FAT 9g; SAT FAT 4.5g; TRANS FAT 0g; CHOL 25mg; SODIUM 1020mg; CARB 45g; FIBER 4g; SUGARS 10g; PROTEIN 11g; VIT A 60%; VIT C 50%; CALC 15%; IRON 15%
Preparation
Combine soup, broth, and butter in large saucepan; bring to a boil on medium-high. Meanwhile, cut tomatoes in half; squeeze to remove seeds, then chop coarsely.
Stir tomatoes, dill weed, salt, and pepper into soup mixture; return to a boil.
Reduce heat to medium; cook and stir 10 minutes or until tomatoes are softened. Chop spinach coarsely; set aside.
Puree soup lightly using a stick blender. Stir in tortellini; cook 4–5 more minutes or until tortellini float. Stir in spinach; cook 1–2 minutes or until spinach wilts. Serve.
Simple for You, Easy for Them.