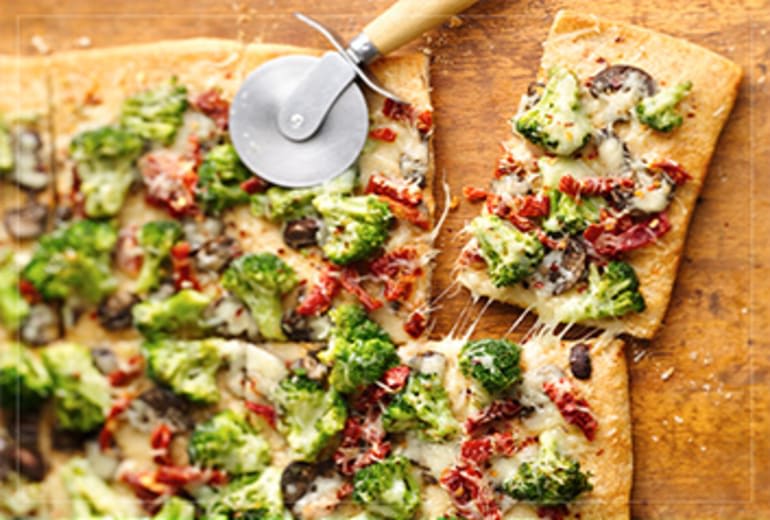 Tuscan Broccoli Pizza
The Pizza was invented in Naples, during the 18th century.
Ingredients
1 bag (11.8 oz) Green Giant™ Seasoned Steamers™ frozen Tuscan seasoned broccoli
1 can (13.8 oz) Pillsbury™ refrigerated classic pizza crust
1 tablespoon olive oil
1 clove garlic, finely chopped
1 cup (3 oz) sliced fresh mushrooms
1/2 cup sliced sun-dried tomatoes in oil
1 1/2 cups (6 oz) shredded Italian cheese blend
1/2 teaspoon crushed red pepper flakes, if desired
Nutrition
Deliciously seasoned Tuscan Seasoned Broccoli topped on pizza crust creates an ultimately amazing veggie pizza.
1 Serving: Calories 280 (Calories from Fat 120), Total Fat 14g (Saturated Fat 4 1/2g, Trans Fat 0g;), Cholesterol 20mg; Sodium 600mg; Total Carbohydrate 28g; (Dietary Fiber 3g Sugars 5g), Protein 11g
% Daily Value*: Vitamin A 6%; Vitamin C 20%; Calcium 15%; Iron 8%
Exchanges: 1 1/2 Starch; 0 Fruit; 0 Other Carbohydrate; 0 Skim Milk; 0 Low-Fat Milk; 0 Milk; 1 Vegetable; 0 Very Lean Meat; 0 Lean Meat; 0 High-Fat Meat; 2 Fat
Carbohydrate Choices: 2
*Percent Daily Values are based on a 2,000 calorie diet.
Preparation
Heat oven to 400°F. Grease large dark cookie sheet with shortening or cooking spray.
Cook broccoli as directed on bag; cool 10 minutes.
Meanwhile, unroll dough on cookie sheet; press into 15x12-inch rectangle. Bake about 8 minutes or until light golden brown.
In small bowl, mix oil and garlic. Brush on pizza crust. Top with mushrooms, broccoli, tomatoes, cheese and pepper flakes.
Bake 8 to 10 minutes or until crust is deep golden brown and cheese is melted. Cut into squares.
Simple for You, Easy for Them.