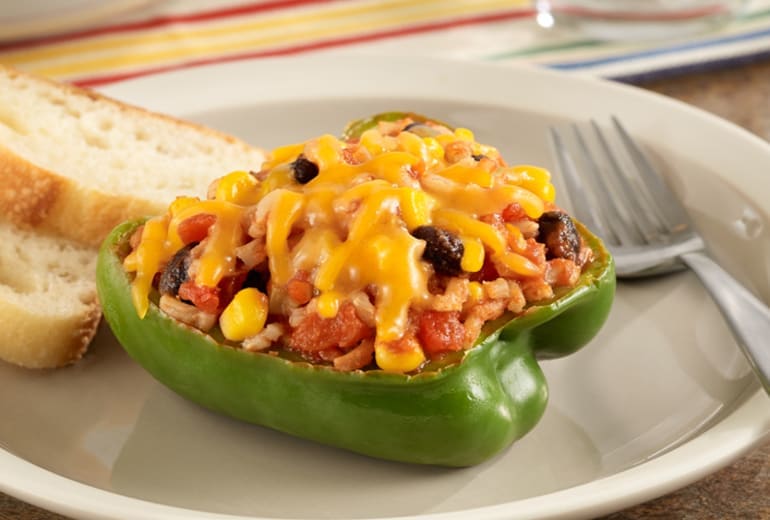 Vegetarian Stuffed Peppers
A heart healthy recipe for stuffed peppers filled with brown rice, vegetables and cheese for a Mexican flavor influence.
Ingredients
2 large green or red bell peppers
1/2 cup instant brown rice, uncooked
1/2 teaspoon ground cumin
1/4 teaspoon garlic salt
1 can (10 oz each) Ro*Tel® Original Diced Tomatoes & Green Chilies-No Salt Added, drained
1-1/2 cups frozen Southwest mixed vegetables (corn, black beans, red peppers)
1 can (8 oz each) Hunt's® Tomato Sauce, divided
1/3 cup shredded sharp Cheddar cheese
PAM® Original No-Stick Cooking Spray
Nutrition
1 Serving (1/2 stuffed Pepper): Calories 183; Total Fat 4g (Saturated Fat 2g); Cholesterol 10mg; Sodium 603mg; Total Carbohydrate 30g, Sugar 8g, (Dietary Fiber 7g); Protein 7g
% Daily Value: Vitamin A 22%; Vitamin C 152%; Calcium 11%; Iron 9%
*Percent Daily Values are based on a 2,000 calorie diet.
Preparation
Preheat oven to 400 °F. Spray 8x8-inch glass baking dish with cooking spray. Cut bell peppers lengthwise through stem into halves. Remove and discard seeds and membranes. Place peppers, cut-side down, in dish. Bake 15 minutes or until tender.
Meanwhile, prepare rice according to package directions, adding cumin and garlic salt. Add drained tomatoes, mixed vegetables and half of tomato sauce to cooked rice; stir to combine. Divide rice mixture and place inside peppers. Top with remaining tomato sauce; sprinkle with cheese.
Cover dish with aluminum foil. Bake 20 minutes or until peppers are hot and cheese melts
Simple for You, Easy for Them.