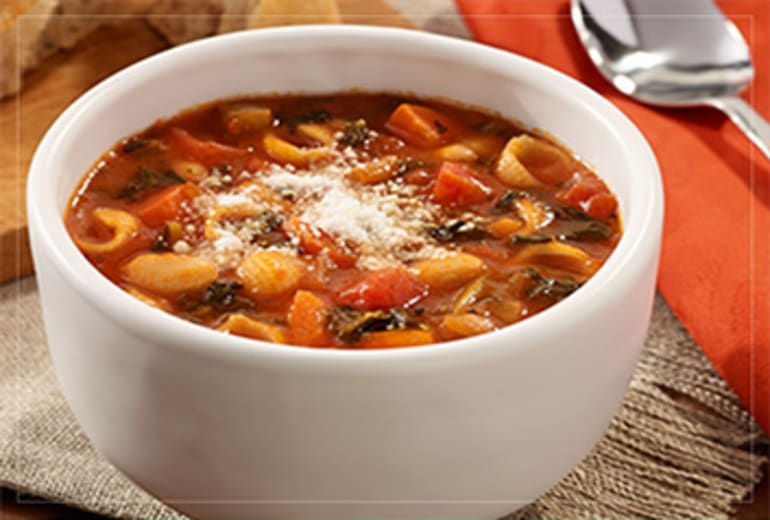 White Bean and Kale Minestrone Soup
Ingredients
2 tablespoons Pure Wesson® Canola Oil
1 cup frozen chopped vegetable blend for seasoning (onion, celery, bell pepper)
3/4 cup chopped carrots
2-1/2 cups water
1 can (14.5 oz) Hunt's™ petite diced tomatoes, undrained
1 can (15 oz) Great Northern beans, drained
1-1/2 cups Hunt's™ tomato sauce* (from 29-oz can)
2 cups frozen chopped kale
1/2 cup dry small pasta shells, uncooked
Grated Parmesan cheese, if desired
Nutrition
Vegetarian minestrone soup recipe with frozen chunky vegetables, canned white beans and frozen chopped kale for ease of prep.
1 Serving: (1-1/3 cups each) Calories 172; Total Fat 5 g(Saturated Fat 0 g); Cholesterol 0 mg; Sodium 719 mg; Carbohydrate 24 g; (Dietary Fiber 6 g, Sugars 6 g); Protein 6 g
% Daily Value*: Vitamin A 65%; Vitamin C 22%; Calcium 6%; Iron 10%
*Percent Daily Values are based on a 2,000 calorie diet.
Preparation
Heat oil in large saucepan over medium-high heat. Add vegetable blend and carrots; cook 3 to 5 minutes or until tender. Add water, undrained tomatoes, beans and tomato sauce; stir to combine. Bring mixture to a boil.
Add kale and pasta; stir to combine. Reduce heat and simmer 15 minutes or until kale and pasta are tender, stirring occasionally. Serve with Parmesan cheese, if desired.
Recipe Tips
Serve Alexia® Artisan Ciabatta Rolls, prepared according to package directions, with the soup.
Simple for You, Easy for Them.